ITEN Wired Radio-9.27.16- Jennifer McFarren/Gulf Power and Laura Campbell/New Horizons Computer Learning Center of North Florida and Curtis Cantrell/ SouthTel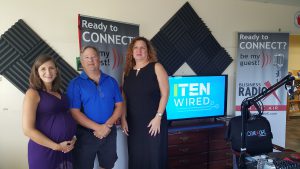 Jennifer McFarren/Gulf Power
Specialties: Workforce development, incumbent worker training programs, career & technical education, economic development, quick response training programs, program management, community development, communications, event facilitation, volunteer engagement, contract negotiation, public relations.
Harnessing Innovation
Gulf Power Company is on the cutting edge of environmental stewardship, community and economic development and energy conservation. We are an investor-owned electric utility with all of our common stock owned by Atlanta-based Southern Company.
Laura Campbell/New Horizons Computer Learning Center
The New Horizons mission is to upgrade people every day. With our career and corporate training solutions, we help turn ambi

tions into marketable skills and business goals into tangible results. Upgrading people every day is our goal, because we want to make a difference. First the people, then the world.

Best Performance Award – Knowledge Advisors, Metrics that MatterTop IT Training Award – Top Training Companies,

trainingin

dustry.com

Cisco Fastest Growing Partner Award – Cisco

Cisco Award of Excellence for Collaboration – Cisco

Cisco Partner of the Year

Microsoft Learning Partner of the Year Finalist 2012 – Microsoft Partner Network

New Horizons Career Paths are specifically designed to equip you with the knowledge necessary to start a career in the IT in

dustry. There are a lot of choices in careers in IT ranging from help desk support to very specialized careers in information security, database administration, and many more. We support our students every step of the way to a new career with the help of career assessments. We'll help you design a path to career success based on your individual strengths and current skill levels and figure out the best place to start your training. Call us today at 844-974-4687 for a free Career Consultation.

enrollmentsupport@nh-alliance.com
Curtis Cantrell / SouthTel and Co-Host of ITEN Wired Radio
We offer the latest in leading edge technology the telecommunications industry has to offer from IP, VOIP and hosted telephone systems, voice and data networking, local line service with unlimited local and long distance calling, and surveillance hardware. Our over 32 year track record demonstrates our commitment to our customers and our expertise in the communications industry. We have the solutions to fit your business.
Call Us at 850-610-4999 contactus@southtel.com