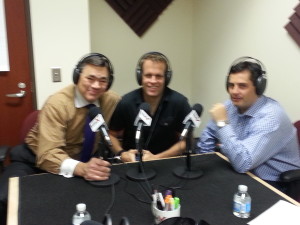 This is a great show featuring two young, very smart entrepreneurs who are creating what I believe to be two of Atlanta's next success stories. In addition both are very active in the not for profit world making our city a greater place for all our citizens.
Patrick Clements is the CEO of bigWebApps and his newest company is Sherpa Desk. Patrick is passionate about the customer service experience and his company is providing services to companies across the planet. Patrick created Draft on Taft, a local not for profit that hosts an annual music, food, and fun event in midtown Atlanta. Since the inception, Draft on Taft has raised over $200,000 for local and national organizations dealing with issues facing children. In 2013 the not for profit receiving funds was GiGi's Playhouse, an organization assisting children born with Down Syndrome.
Brooks Robinson is someone I have known and admired for many years. Brooks is the founder and CEO of Springbot. Brooks is helping on line retailers deliver compelling advertising messages at just the right moment. His company is driving up conversation rates for his clients. Brooks and his wife are both in leadership positions with Kate's Club, an organization whose mission is to empower children and teens facing life after the death of a parent or sibling.
I highly recommend that you listen to these two successful entrepreneurs share their stories. Visit their websites and get to know their companies. I promise you will be hearing a great deal about these companies in the near future.