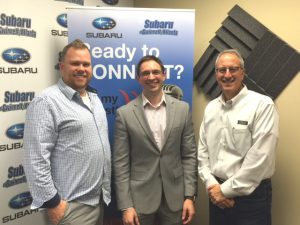 Macrae Cain/Blue Key Interactive
Blue Key Interactive creates beautiful and functional websites that engage your customers and attract new leads. They work with successful business owners who often say things like… "We're embarrassed of our outdated website, and our visitors have a hard time using it." Others say, "We're tired of dealing with our web developer who rarely responds and makes excuses for all of the problems associated with our site." Some are struggling to find time to run their company social media pages, and overall these business owners wish their website generated more leads. They solve those kinds of problems to get businesses to the next level. Don't Just Get Found, Be Noticed!
Jonathan Sparks/Sparks Law
Sparks Law is a new kind of business law firm. They believe that in today's business environment all business owners deserve and require quality legal services. They offer predictable fees, allowing Sparks Law clients to set their priorities and have control over their budget. Business owners must make big decisions every day. Sometimes they choose to take risks as they grow their businesses; other times they decide it is best to avoid those liabilities. But how do they know which is which when it comes to legal risks and vulnerabilities? That is where Sparks Law come in. They are SPARKS Law. Smart Business Decisions Start with SPARKS.