Larry Robbins, Partner, Wyrick Robbins Law Firm
Larry practices in the areas of venture capital, corporate finance, mergers & acquisitions, securities and tax. Larry represents entrepreneurs beginning with early start-ups and continuing through the initial public offering stage.
Larry received his B.A., M.B.A., and J.D. from the University of North Carolina at Chapel Hill. He was also a Morehead Scholar at UNC.
Follow Wyrick Robbins on Twitter and LinkedIn
Follow Larry on LinkedIn
   Hilary Nathan, Relationship Manager, Training Pros
Hilary is a Learning and Development professional with a passion for creating & staffing award-winning training programs for medium to large scale entities. She is experienced in designing and implementing enterprise-wide initiatives to improve productivity & create efficiencies within organizations.
As a Relationship Manager, she specializes in working closely with human resources, training and development departments of medium to large organizations to identify, attract, and on-board contract professionals for specific training and development needs.
She is perpetually seeking top talent training professionals, instructional design consultants and subject matter experts that are able to successfully deliver measurable results required by her clients throughout North Carolina and the Southeast US.
Follow Training Pros on Twitter, Facebook, and LinkedIn
Follow Hilary on Twitter and LinkedIn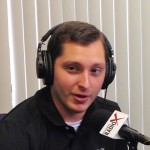 Jim Zidar, CEO, Stealz, Inc. 
Jim Zidar is the co-founder and CEO of Stealz, Inc. Stealz currently works with over 500 venues across 22 states and employees 11 people. Jim is a graduate of NC State University and worked as an auditor and part-time CFO before making the leap to the entrepreneurial world.
Follow Stealz, Inc. on Twitter, Facebook, and LinkedIn
Follow Jim on Twitter and LinkedIn