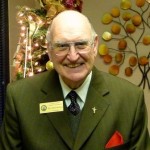 Bother Eddy Ketchersid has been in full-time ministry for more than fifty years!  A product of west Texas, Brother Eddy went to school at both Amarillo College and Seminary and Abilene Christian.  He has been married for 53 years, and has six children.  Brother Eddy is truly a community ambassador.  He is the Community Minister for The Branch, Farmers Branch Church of Christ.  He has also been very active in the Farmers Branch Chamber of Commerce for more than 20 years.  Brother Eddy has written two books, the most recent of which is "Ten Commandments of Leadership Networking".  In line with my blog over Thanksgiving on "Building and Maintaining Productive Relationships", Brother Eddy notes that the most important accomplishments in life are possible only through healthy and strong relationships.  If you'd like to reach Brother Eddy, he is a phone call away at (972) 345-1645.  To find out more about The Branch, check their website at www.thebranch.org.
Today's show in Atlanta is dedicated to an organization that is committed to helping seniors successfully age in the place of their choosing.  Mary Lea Quinn is the Founder of the Atlanta Chapter of the National Aging in Place Council (NAIPC).  In its inaugural year, the Atlanta Chapter of the NAIPC is one of 12 active chapters around the country.  Their website describes itself this way:  [We provide] "a community of people and professionals who act to provide
resources and services that champion living long, independent, productive lives at home and in the community."    Mary Lea can be reached at Mary Lea can be reached at (770) 476-8400.  Visit the NAIPC's website here.  
Joining Mary Lea in the studio today are two guests that have been on the show before:  Thom Corrigan and Dara McMillan.  In addition to representing the NAIPC this morning, Thom also represents both Metta Johnson and Associates and The Elrod-Hill Law Firm. Thom has served the senior community as a social worker and a geriatric care manager for thirty years. Though the two organizations he works with represent different disciplines within the senior services arena, both share the common objective of providing a comprehensive assessment of a client's situation and providing solutions to meet each client's unique requirements.  Thom can be reached at (404) 791-8234, or via email at thomcorrigan@bellsouth.net.
 Dara and her husband are the owners of a unique company called My Accessable Home.  Though there are a few other companies in the Atlanta area that specialize in renovations for seniors and disabled adults, their business is unique in that they bring a wholistic approach to the process.  Dara can be reached at (770) 715-5242 or on the web at www.myaccessablehome.com.
Candace Kortovich is a Housing Counselor for a non-profit organization called Housemate Match.  Housemate Match is a unique, nationally recognized, home sharing program that matches mature adult homeowners who have extra room in their homes with adults (tenants) seeking a roommate in a beautiful and safe place to live in the Metro Atlanta area.  For more information on Housemate Match, please contact Candace at 678.812.4082.  You can also view their website here.
Special thanks to Griswold Special Care, A Tradition in Home Care Excellence since 1982, for hosting today's show!