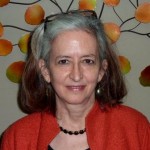 Born and raised in Arkansas, Lue Taff started her career working for Bill Clinton…indirectly.  After earning an undergraduate degree in Psychology, and having trouble finding work in that field, Lue went to work for the State of Arkansas as a computer programmer.  During this time as a computer programmer, Lue started doing some volunteer work in the community.  She was paired with an elderly woman to support her in whatever way was needed.  She became close friends with her, and developed a passion for serving the senior population.  This led her to a Masters in Social Work in 1996, and seven years working in social work in a clinical environment.  She became aware of an opportunity to lead the Elder Support Program at The Senior Source.  Today, she is still the Director of the Elder Support Program, and loves the opportunity she has every day to make an impact on the lives of seniors and their families.  Lue can be contacted at The Senior Source at (214) 823-5700, or visit their website at www.TheSeniorSource.org.
As a nursing student at Texas Christian University, Shemanne' Nickerson spent part of her time working for a non-profit organization serving those suffering from Cerebral Palsy.  Her work there so impacted her that it led her to change her major to Social Work.  After graduating, Shemanne' worked for three years with the AIDS/HIV population as a social worker.  She then had an opportunity to become the Director of Case Management for a local rehab hospital, where she began to be exposed to the senior population.  As a social worker in a rehab environment, Shemanne's primary role is to transition patients from the hospital to the home.  She realized that the needs of the senior population were a bit more complex than younger patients.  Shemanne' advises families to understand their diagnosis, to be involved in the decisions being made regarding a loved one's care, to ask lots of questions and be aware that there are many options available for all types of treatments.  To contact Shemanne' directly, email her at  snickerson33@gmail.com, or via phone at (817) 716-8830.
Monica Perdew is a native of Macon, Georgia, where she grew up and attended Mercer University.  She began her career as and insurance counselor for GEICO for thirteen years.  Subsequently, she moved to Houston to attend the Thurgood Marshall School of Law at Texas Southern University.  After earning her law degree, she returned, with her husband, to Atlanta to start a family.  She was privileged to be able to stay at home to be a full-time mom for a number of years.  It was during this time that she noticed a lack of eye contact from her son, and that he was not responding to his name.  After ruling out hearing loss and other conditions, Monica and her husband ultimately received a diagnosis of Autism for their son.  This diagnosis fundamentally changed their lives.   Monica is organizing a community event to benefit the Walden School at the Emory Autism Center.  The event is a Community Yard Sale being held at Clairmont Presbyterian Church, 1994 Clairmont Road in Decatur, on November 20 from 8 am to 1 pm.  Rent a space for only $25, or come out and shop!  To register for the event, or contact Monica directly, email her at mdbaileylaw@aol.com, or call her at (404) 428-4828.