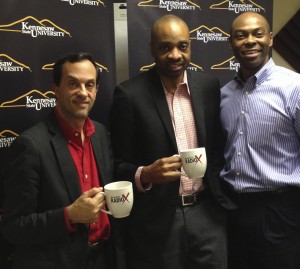 In this edition of Global Leader Radio!™, we discuss the notion of bringing ideas to life through innovation, empowerment and results. Host Alvin C. Miles interviewed Phillip Boykin and Peter Pasternack who shared how combining business savvy with creativity helped them become better leaders.
Here are seven takeaways from our discussion:
"The backbone of business is Accounting!"
"There is nothing new under the sun; it's about how you put it together that makes it new!"
Your ability to produce should be your differentiator.
The best leaders surround themselves with people who help illuminate their blind spots.
People are most comfortable when they have someone to relate to.
Don't fear failure!
"Making 'easy money' in business requires preparation & hard work!"
In this podcast, Phillip and Peter provide great examples to illustrate the points above. Add their ideas to your leadership toolkit to help increase YOUR influence. Leadership IS a conversation!
Phillip Boykin Jr. / Creative Director, Shark Branding
Phillip Boykin currently serves as the Creative Director for Shark Branding, a New York based advertising and marketing agency founded by Daymond John, CEO of FUBU and one of the stars of the hit ABC entrepreneurial reality show, Shark Tank. Phillip is tasked with developing marketing properties from concept to reality for brands across a wide range of verticals. Phillip expertise includes sponsorship procurement,  strategic alliances, talent buying and placement and contract negotiations. Phillip has worked with brands such as Rolls Royce, Diageo, Bentley, The Rock and Roll Hall of Fame, DirecTV, Wing Stop and the International Franchise Association to name a few.
Prior to joining Shark Branding, Phillip served as Executive Vice President of Business Development at Coliseum Enterprises where he worked on the branding initiatives of professional athletes. Prior to Coliseum, Phillip worked with fixed income mortgage derivatives in Atlanta as well as on Wall Street.
Mr. Boykin attended the University of Memphis where he majored in Manufacturing Engineering. He resides in Atlanta with his wife of 6 years, Hazel Boykin.
Contact Phillip: (404) 275-8087, phillip@sharkbranding.com
Peter Pasternack / Principal, Foundations Design, LLC
Peter Pasternack graduated from the University of Georgia with an undergraduate and master's degree in accounting. He began his career at Price Waterhouse before moving to the banking industry where he gained over 20 years of experience. He's financed over 500 businesses and knows firsthand why some ventures succeed and many fail.
In 2005 Peter co-founded Foundations Design, LLC. The company designs, builds, and renovates residential and commercial property. Peter is responsible for the operational and financial aspects of Foundations Design as well as the long term growth of the company.
The initial success of Foundations Design and resulting media interest led to a leading role on one of television's most recognized real estate investment and home renovation shows, A&E's Flip This House. On the show, Mr. Pasternack is routinely seen integrating his business savvy with trademark enthusiasm. Peter has been called upon to offer his knowledge and experience to prospective entrepreneurs through local and national media outlets such as Alpharetta Magazine and Lang and Thomas Real Estate in addition to various speaking and radio engagements.
Peter has worked diligently for his many achievements and believes in passing on the information that has made him so successful. He is excited about sharing his knowledge and skills in making money and believes strongly in the entrepreneurial spirit.
Contact Peter: (404) 275-8087, peter@foundationsllc.com
Which Book Has Most Impacted Your Leadership Ability?