Jeff Brown with CompliancePoint joins Joe Moss to discuss cyber security and how small businesses can protect themselves from computer hacking.
Jeff Brown/CompliancePoint Inc.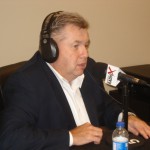 Is your information security working as designed? Do you understand the risks to your business if there were a data breach? No matter what your business, failure to comply with relevant legislation or to fully protect confidential data or payment card information can have a devastating impact.
CompliancePoint's Information Security Compliance Practice is uniquely positioned to enable you to meet your compliance and information security goals.
Securing your company's information assets involves more than technology. It requires a deep understanding of the risks involved in and the security processes and procedures that should be implemented.
Their consultants have years of experience in all aspects of information security and hold some of the most prestigious certifications and designations. They have worked with organizations of all sizes including many Fortune 50 companies and global industry leaders.
CompliancePoint's consulting services can help your company meet its compliance, security design and assessment requirements.
—————————————————————-
On the Money focuses on topics and issues allowing small businesses to better navigate the financial services minefield, with analysis and opinions from today's industry experts on banking and loans. On the Money also introduces you to some of the top small business leaders in the Atlanta market.
Hosted by Joe Moss, the president of Embassy National Bank, On the Money airs live every Wednesday at 3:00 PM EST from the Business RadioX studio in Gwinnett.