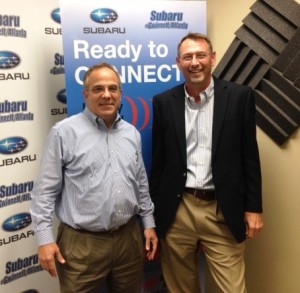 Go behind the scenes of the Gwinnett Center! On this episode of "On the Money", host Joe Moss interviews Joey Dennis, the general manager of the amazing Gwinnett Center complex in Duluth, GA.
Joey Dennis/Gwinnett Center
Gwinnett Center is located on approximately 90 acres in the heart of Gwinnett County at the intersection of Sugarloaf Parkway and Satellite Boulevard off of I-85. The Center consist of five venues: a 13,000 seat Arena, 50,000 square-foot Convention Center, The Tommy P Hughes Grand Ballroom, 700 seat Performing Arts Center, and The Hudgens Art Center. The campus has 5,000 parking spaces and parking is free. The facility hosts approximately 600 events per year averaging 1.25 million guests.
—————————————————————————————————————
"On the Money" focuses on topics and issues allowing small businesses to better navigate the financial services minefield, with analysis and opinions from today's industry experts on banking and loans. "On the Money" also introduces you to some of the top small business leaders in the Atlanta market.
Hosted by Joe Moss, the president of Embassy National Bank, "On the Money" airs live every Wednesday at 3:00 PM EST from the Business RadioX studio in Gwinnett.