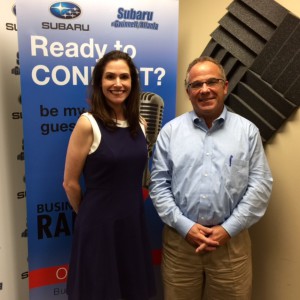 On this episode of "On the Money", host Joe Moss talks to Olivia Rose Jenkins from QloudSecure about how cyber threats and online security breaches can affect a small business and how to monitor them.
Olivia Rose Jenkins/QloudSecure
QloudSecure was founded by Olivia Rose Jenkins in 2016 to address the concerns of law firms about exposure to the risks of data breaches, leakage, theft and subsequent liabilities. QloudSecure is a technology consulting services company, offering law firms the strategy, guidance and support they need to migrate to, and continually to successfully operate on, a centralized cloud computing infrastructure. This type of infrastructure offers a turn-key solution for law firms' explicit needs.
Olivia has over 15 years' experience in the cybersecurity field with the last ten years as a consultant helping organizations achieve and maintain best security practices to safeguard their assets and comply with regulatory and industry requirements. A love of using technology as an enabler for clients to achieve and exceed their business goals led to an interest in cloud computing.
One of the foremost concerns of a law firm is the threats of exposure, and understandably so due to the following reasons:
• Legacy IT systems are widely in use.
• Data has become more disparate across multiple locations and systems.
• Employees blur the lines between personal and corporate technologies.
• Security awareness is lacking among firm employees and third-parties
• There is a shortage of qualified IT staff to manage it all.
These issues are also very present at any type of small business.
QloudSecure has a proprietary six step process to help you close gaps for good called QloudPrint. It includes discovering your risk, assessing the potential business impact, designing a plan to close the gaps, deploying your security controls and even providing policies and procedures you can use, educating your employees on best security practices to reduce potential going forward, and then managing it for you if you don't have access to a good IT resource. Everything is customized to your specific environment and tailored towards small to medium law firms.
To watch the video of this show, CLICK HERE.
——————————————
"On the Money" focuses on topics and issues allowing small businesses to better navigate the financial services minefield, with analysis and opinions from today's industry experts on banking and loans. "On the Money" also introduces you to some of the top small business leaders in the Atlanta market.
Hosted by Joe Moss, the president of Embassy National Bank, "On the Money" airs live every Wednesday at 3:00 PM EST from the Business RadioX studio in Gwinnett.