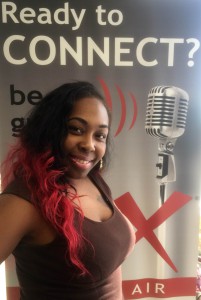 My name is Tequia Danielle Lester also known as "The Party Guru".  I began planning parties for my oldest daughter over 15 years ago. After exhausting all of the traditional storefront party places I ran out of ideas.  I decided to plan a carnival party complete with clowns, popcorn machines, games, balloons, prizes and so on. To say the least it was a smashing success among my family and friends.  It wasn't until 3 years later, after working in corporate America and getting laid off for a year  when I put together another birthday party for my daughter, this time a spa party. The response was undeniably amazing and that's when I knew that I was on to something. After, a little pushing from close family and friends I began tapping into my hidden talent. Thus, in 2008 'Its All About You Birthdays' was born. This company quickly took off and has since been moving forward full speed ahead.
I didn't have to look far to reel in several A-listers. Once they met me and saw my outgoing, bubbly, personality along with my hard work ethics, love for kids and amazing passion to create unique birthday parties it was a no brainier. The IAAYB calendar began to quickly fill up months in advance with several high end clients throughout the Metro Atlanta area. I have had the privilege of hosting birthday parties for Former Real Housewives of Atlanta Deshawn Snow (repeat client), CNN's Johnita Due (repeat client), Celebrity Shoe Designer of FeverShoes Natischa Harvey (repeat client), Falcons defensive line coach Bryan Cox (repeat client), Radio Personality Cadillac Jack  from Country/Kicks 101.5 (repeat client),BRAVO's Married to Medicine Toya Bush, Singer Ledisi, VP of Neenah Paper Julie Schertell (repeat client) and Winnie Couture to list a few.
Many of my clients were so impressed with the children's events, the amazingly unique candy buffets and signature theme cakes that they began calling 'The Guru' to plan their events as well. The company brand then expanded creating 'Its All About You Atlanta' for the adult and corporate clientele. IAAYA is fabulously, chic, stylish & fun for women & men of all ages. There is something in store for everyone. I have a passion and love for entertaining which I infuse with amazing and beautiful decor.
My team carries that same passion. Taking the time to personally get to know our clients, putting their needs first and foremost. Our meticulous attention to detail and commitment ensures every event to be a successful one.
My company also believes very strongly in giving back to the community. In 2014, I partnered with Children's Healthcare of Atlanta. Hosting several charity events. a Valentine's Day celebration, a 'Celebrating Life' October fest and the biggest event to date was hosting  'Let it Glo' Prom 2015 for the entire hospital. (Which I provided: hair styling, makeovers, fun attire, catering, balloons, red carpet, photo area, decorations, DJ, and volunteers). 2014 was a big year. I also started my annual Thanksgiving 'Feed Atlanta' Food & Coat Drive for the homeless. During this event we fed over 300 homeless people and are looking forward to feeding even more this year.  My goal is to always be one the cutting edge, introducing new & fresh ideas for any event or occasion.  It's All About You Birthdays  is a brand…I want everyone who comes in contact with anything I do, to feel 'Its All About Them'. As as young African American entrepreneur I hope to inspire anyone wanting to start their own business and know that all things are possible to them that believe.