WHY WE DO IT
To help your company and the market you serve Get The Word Out.
No Big Media ambushes, traffic reports, and commercial interruptions.
We feature Business Professionals interviewing their peers, drilling down
on the critical issues, and delivering practical information to an engaged audience.
Business Is Good.  Your Work Matters.  Share The Air.
Cliff Van Gestel / Big Rhino 
Owner
Carol Anne Mackey / Big Rhino
Sales
Pensacola's Custom Screen Printer
We've been custom screen printing and providing embroidery services in Pensacola, Florida since 1992.
Businesses, organizations, and individuals nationwide have trusted Big Rhino to provide their custom printing, custom embroidery, and design needs. No project is too large or too small, we get it done.
Our humble beginnings as a screen printer out of an old barbershop in Downtown Pensacola, eventually evolved into what is now known as Big Rhino Screen Printing and Embroidery. This transformation placed us in the position of leading the charge for better screen printing, not only in Pensacola, but throughout the United States.
Twenty (20+) plus years of knowledge and experience in the screen printing and embroidery industries goes into each and every project we finish. You can count on this knowledge and experience for your next project.
Services We Provide.
We are a fully functioning screen printer which provides Screen Printing, Embroidery, Direct-to-Garment printing, and Graphic Design services. Whether you are a business, a church, an organization, or just someone who needs custom printing or embroidery, we can help you with your next project.
BIG RHINO
Screen Printing & Embroidery
2709 N. Pace Blvd.
Pensacola, FL 32505
P: (850) 469-9028
H: Monday – Friday: 9:00 AM to 5:00 PM CST
Rafi Perez and Klee Angelie / Rafi Was Here Studios, LLC
Owners / Artists
About Rafi Was Here Studios
Rafi Was Here Studios is the creative playground for Award Winning Contemporary Artist Rafi Perez and Jewelry Designer Extraordinaire Klee Angelie. The Studio began business in early 2012 bringing art and jewelry to the awesome people of Pensacola FL, and expanding internationally since.
Although Rafi and Klee have been creating art their whole lives it wasn't until 2012 that they made it available to the public. They have been nonstop ever since.
Forged in the fiery hot sun of the open road, the bitter cold of Chicago snowstorms and the sticky wild swamplands of the Florida Everglades, Rafi Was Here Studios brings its contemporary brand of Art and Jewelry to delight and amaze you. Not to mention, Rafi and Klee are pretty awesome and easy to get along with.
A Little About Rafi Perez
Rafi is an award winning contemporary artist who creates emotionally charged works. He is best known for his use of texture and bold color palates in striking pieces that each has a story to tell.
Rafi is a self taught artist who spent years refining his own techniques and creating a style that is all his own.
He has a unique ability to absorb colors and emotions in a very abstract way and is somehow able to translate it into the high energy fine art for which he is known.
"He is driven to communicate visual qualities of perhaps the external environment which offers us freedom and inspiration as we cope with awesome focal points in the vast open space surrounding our existence. He attempts to show the internal passion of human sensuality that brings quality to our senses stimulating and extending our consciousness elevating life as individuals or sharing space with others around us. Ultimately Rafi seems to convey simple sophistication and intellectual freedom as he uses the visual language to express the human potential." – Spiros Zachos (PO10TIAL Magazine)
Rafi's work can be found in myriad of public and private art collections both in the United States and abroad, He currently lives and works in Pensacola, Florida.
Jewelry Artist Klee Angelie
Klee Angelie is a fine jewelry artist who creates original signature pieces that have a story and a history to reveal. Using old world techniques and a loving, nurturing approach to the creative process, her pieces posses a rawness and an energy that make them truly unique to her.
The work has been described as contemporary naturalist and wearable micro sculpture.
Coming from a musical background and a passion for harmony and rhythm, Klee has tapped into these themes and translated them into her jewelry creations. The result are pieces that are not only beautiful but have a flow and life about them that is palpable.
Klee was born and raised in Illinois, right outside of Chicago and devoted the majority of her time to music and creative arts in her area.
The hustle and bustle and the energy of the city, coupled with her passion for being creative lent itself to her unique contemporary but organic and original style.
Klee now resides and works out of her studio in Pensacola Fl. Her work can be seen at local markets and galleries and at charitable events which she supports. Her pieces are also available to the worldwide market via her online store.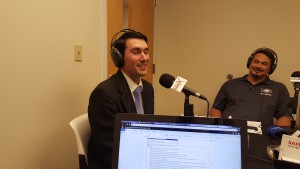 David Guarnieri Speakman / Principal
Gulf Coast Business Consulting, inc.
David G. Speakman is an award-winning entrepreneur, strategic manager, and former U. S. National Executive Officer with The International Business Honor Society. In 2013, Mr. Speakman was awarded several notable accolades including the Entrepreneurship, Action & Us (ENACTUS) U. S. Southeastern Entrepreneurship Champion, and in the most widely used business strategy competition in the world, Mr. Speakman ranked in the Global Top 100 in Earnings Per Share & Return on Average Equity. In 2015, Mr. Speakman was honored to be named on the Mentors Guild list of Marketing Strategy Experts.
Holding two business degrees and nearly two decades of cumulative professional experience, Mr. Speakman has been a full-time business advisor & consultant to a wide array of organizations including restaurants, architectural firms, non-profit organizations, start-ups, and multi-national companies. Mr. Speakman graduated in the Top 5% from The University of Alabama's Commerce & Business Administration Program with University Honors, specializing in Entrepreneurship, and minoring in Italian. Since 2003, Mr. Speakman has earned a total of 236 higher education credits from six separate institutions.
In an effort to help Gulf Coast businesses grow, improve, and innovate, David shares the business insights he has gained through formal education, training, research, and professional experience with entrepreneurs, professionals, businesses and organizations.

David G. Speakman
Principal Business Advisor
(251) 942-2548
david@gulfcoast-business.com
Mark L. Olshefski, MHRM
Director of Business Development, Corporate Security & Photography
(850) 496-0753
Joseph J. Leccese, CGCBC
Sales Management & Business Development
(850) 393-8708
James S. Long, Jr.
Senior Executive Business Development Consultant
(443) 974-5200
Gulf Coast Business
GUIDING BUSINESSES TO SUCCESS WITH INFORMED & INDEPENDENT ADVICE
As a business owner you may assume that professional business consulting is a luxury only large companies can afford. Don't be so sure. Gulf Coast Business offers consulting services that not only fit your budget, but usually pay for themselves through increased sales or improved efficiency.
Whether you need a high-level review of your strategy and competition, new ideas for marketing, or tactical advice on information technology, finances, or personnel, we can help. Our consultants have the training to grasp complex business issues – and the experience to know which ones really matter.
Why not let an informed, independent partner help clarify your company's most critical issues and objectives? Call 251-942-2548 or simply scroll down to schedule a meeting.
SMART SOLUTIONS FOR BUSINESS OWNERS
If you own or manage a business, you probably want to plan for the future, take control of your finances, or simply fix nagging problems that impede productivity. But with so many other pressing concerns, who has the time?
We do. At Gulf Coast Business, we understand the unique challenges that small business owners face, from managing day-to-day operations to sales, marketing and beyond. Please schedule a FREE initial consultation below.
FROM STRATEGIC GOALS TO DAILY OPERATIONS
At Gulf Coast Business, we offer a variety of consulting services for business owners. These are designed to address everything from major strategic issues to more basic problems affecting everyday business practices. Our services include, but are not limited to:
No matter what your needs, we promise to deliver objective, informed advice, and actionable plans for improving your business.