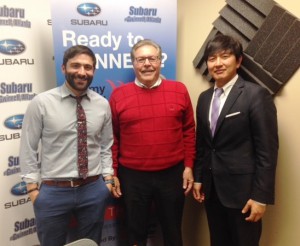 Woody Brown/The Rhoads Group
The Rhoads Group is an independent insurance agency specializing in auto, home and life insurance. Their Mission is to create a better protected community by offering insurance solutions through a thorough, consultative approach. As an independent agency, they are free to match your needs with the insurance company that best fits you. This means receiving excellent coverage at the most competitive price.
Dr. Charles Kim/Georgia Gwinnett Chiropractic Clinic
Georgia Gwinnett Chiropractic is the premier auto and sports injury center. They assist elite and professional athletes, as well as thousands from all walks of life, to end pain, achieve optimal performance and better overall health. They offer highly advanced chiropractic treatments for severe pain caused by car accidents, personal injuries and sports injuries. They start with a comprehensive diagnostic exam and consultation to determine the source of your pain. Then they create an individual chiropractic treatment plan designed to help you achieve lasting relief of neck pain or back pain as well as lifelong health.
Dr. Charles Kim is a Certified Sports Physician through the American Chiropractic Board of Sports Physicians. Dr. Kim offers insight into cutting edge performance for some of the world's most elite athletes in the NBA, MLB, PGA, NFL, tennis, CrossFit, and track to awaken the power of healing and performance. He has the highest level of chiropractic sports rehabilitative training in the state of Georgia.
CLICK HERE to view the video of this show.