We sat down with Kelly Regal, EVP of Turner Broadcasting System to discuss what it takes to succeed in corporate careers as well as hear her personal story. Listen in on what it takes to climb the corporate ladder, to make a great career transition, and to be both successful and fulfilled in the work you do. Here's more background on Kelly Regal.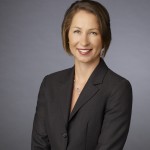 Kelly Regal is Executive Vice President of Turner Broadcasting System, Inc. (TBS, Inc.).  Her leadership portfolio includes the company's programming and sales research; public relations, corporate communications and philanthropy; human resources; and media strategy and buying functions.  In addition, she directs wide-ranging strategic and operating initiatives bridging Turner's global news; entertainment; animation, young adult & kids; and sports networks and businesses.  Regal is based in Atlanta and reports to Phil Kent, chairman and CEO of TBS, Inc.
Regal joined the company in 1996 as employment counsel, overseeing employment litigation and related matters including contracts, policy development and consistent enforcement of day-to-day employment policies.  She was promoted to senior counsel in January 1998, with subsequent promotions leading to her being named executive vice president in March 2003.
Prior to joining TBS, Inc., Regal was an attorney with Paul, Hastings, Janofsky & Walker.  She earned a bachelor's degree in business administration and marketing from Boston College and a juris doctor degree from Boston College Law School. Regal is a member of the national board of Women in Cable Telecommunications (WICT) and the Georgia Bar Association.
Turner Broadcasting System, Inc., a Time Warner company, creates and programs branded news; entertainment; animation and young adult; and sports media environments on television and other platforms for consumers around the world.