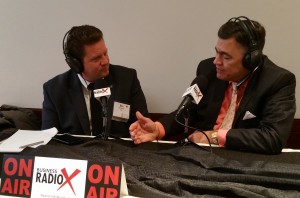 As always it was an honor and privilege to have Ben Hendrick join me in Booth 61 at the GCLA 2015 CIO of the Year breakfast. I met Ben in 2006 or 2007 while he was earning his MBA at Kennesaw State University. Ben and I became more than friends. Many call us Brothers from different Mothers. 🙂
I am in awe of what Ben has accomplished since joining Dell in 2009. Everyone knows who Michael Dell is and the great success of his company. In 2009, I did not know anyone who worked at Dell nor did I ever see anyone from Dell at industry events. Within a year of Ben joining the company he became the Face of Dell in Atlanta. There were not 10 CIO's in Atlanta who could have given you the name of their sales executive from Dell in 2009. Today there is not a CIO in Atlanta who does not know and respect Ben Hendrick. Ben is the Face at TAG, TechBridge, WIT and so many other organizations in our community. The Dell After-Party at the annual Techbridge Digital Ball is legendary.
If you don't know Ben Hendrick, I hope you will listen to this short interview and then connect with Ben on LinkedIn or other social media. You will connect with one of the greats!