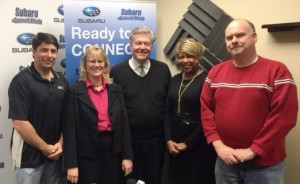 John Ray/Bookkeeping Express & Ray Business Advisors
Clients come to Bookkeeping Express/Ray Business Advisors to reduce the stress and anxiety which often comes with day-to-day management of a business. They help clients by taking away the burden of bookkeeping and accounting and improving their business processes. They provide reports on their business which are both robust and easier to understand than traditional financial statements. They can also craft budgets and projections and help find opportunities for expense improvements.
In addition, owner John Ray enjoys making connections for his clients which help build their network and their business. He does all this for a flat monthly fee. His clients don't worry about a meter running when they call. His company works with small to medium-sized businesses, non-profits, and solopreneurs.
Tara Lamboley/REV Demand
REV Demand was created with the goal of helping owners of business-to-business service organizations achieve the success they envisioned when starting out in business. REV Demand works with small to midsize companies to maximize their top-line revenue by implementing consistent lead generation strategies such as email marketing and webinars to fill the sales pipeline. They establish well-defined and repeatable processes for lead generation and qualification. They also help executive managers to verify that the right people in the organization are reaching the right target audience with the right message.
Ann Hall/Own Your Idea
Own Your Idea is a sole practitioner consulting company providing writing, editing, and proofreading services and business administrative solutions for small business and entrepreneurs. Work can be performed on site or virtually. Their mission is to add value and create solutions.
CLICK HERE to watch the video of this show.