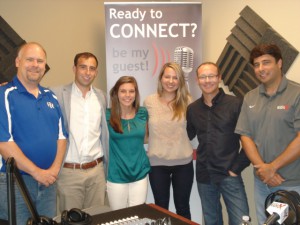 Aric Castleberry/Aric C. Cosmetics
Aric Castleberry is an Atlanta based make-up artist, salon owner and founder of Aric C. Cosmetics. He began his career as a professional photographer where he learned firsthand that applying make-up was anything but easy. In 1999, Aric realized his client base was growing and very loyal, and he responded to their encouragement to start his own line of  cosmetics. His years of experience in the retail trenches paid off as it allowed him to collect the best-preforming products across multiple brands, which became the basis for his line and are the formulas that support what he now calls his "Blueprint for Beauty".
Jordan Sandler & Katie O'Connor/KMS Technology Solutions
KMS Technology Solutions grows brands by offering state-of-the-art marketing strategies while providing the support to participate in today's changing technological world. Companies use KMS as their full-time marketing team or simply for consulting a new  product/service campaign to ensure success. As a dedicated member of your team, KMS provides custom IT solutions that create unrivaled value for your company along a tailored plan to reach your target market.
Mary Overstreet/GROW Counseling
Grow Counseling is a practice of licensed therapists in the Atlanta Metro area with office locations in Suwanee, Buckhead and Peachtree City. They provide counseling services to individuals, couples, families, teens, and children for concerns such as stress management, addictions, marital conflict, life transitions, grief, parenting and more. They offer workshops  in the workplace and community on a variety of topics to encourage team building and stress reduction in the workplace.