Joe Moss/Embassy National Bank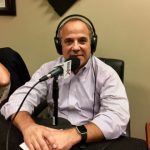 Embassy National Bank was chartered as a community bank designed to fill the financial needs of the south-Asian community in metro Atlanta. After a slow start, Embassy now lends throughout the southeast and has expanded its deposit territory along the east coast. Embassy also originated the Podcast 'On the Money' produced on the Business RadioX channel. Through this podcast, Embassy attempts to educate the small business community on relevant topics.
Dawn Poplawski/PCC Innovative Solutions
PCC Innovative Solutions is a debt collection agency that supports all types of businesses dealing with commercial and consumer receivables. They don't just collect on slow paying customers, their focus is on educating businesses on how to reduce bad debt and increase cash flow. Through free consultations and training workshops, businesses will learn what steps should be taken in order to protect their sales or revenue from becoming a collection issue.
Neel Majumadar/Protiva Consulting
Protiva Consulting can position its clients uniquely in the digital space as it goes to great lengths to understand the client's business, its competitors, and the needs of its customers. Their business consulting team ensures that they get the client problem and the brand and buyer persona right, which enables their content team to produce client-oriented content enabling the clients to get maximum reach and engagement through digital channels, leading eventually to a healthy sales pipeline. Their team has years of experience in handling Facebook, Twitter, LinkedIn and search engines. The analytics team completes the loop, making the marketing campaigns contextual and meaningful.
Courtney Spencer/Gwinnett Chamber of Commerce
The Gwinnett Chamber is the forum for business, government, education, healthcare, arts/culture/entertainment, and philanthropic and public-service communities to come together to advance our region's economy and enrich Gwinnett's quality of life.
The mission of the Gwinnett Chamber is to strengthen existing businesses, facilitate the growth of quality job opportunities, and enrich the community's quality of life. The Gwinnett Chamber serves over 2,000 members throughout metro Atlanta by delivering pertinent and useful programs that strengthen and connect businesses locally, regionally, and globally.
CLICK HERE to watch the video of this program