Divorce is a reality. Not a week goes by that someone doesn't call me asking for advice about some phase of the divorce journey. Some women are still in shock over discovering infidelity. Others are angry that their 'happily ever after' isn't happening. Some women are paralyzed by the insurmountable road ahead of them as they navigate the legal process. Others ask if I can teach them how to forgive.
I have been through this process and learned a tremendous amount. My mission is to influence women to take the high road in navigating the divorce process.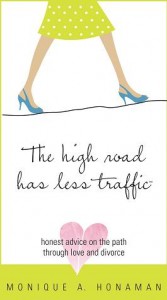 Here's a little about me … I live in suburban Atlanta with my husband, Justin, and my two children. Free time is devoted to family activities like cheering for my kids at their sporting events, golfing, boating, traveling, taking photographs, reading, and volunteering in the community. I am also the Founder and President of ISHR Group which provides global solutions in the area of leadership assessment, development and coaching. I hold a Bachelors Degree from the University of Michigan, a Masters Degree from Michigan State University, and a Juris Doctorate from Albany Law School. I love to write and frequently contribute to business periodicals on the subject of leadership and coaching.
In the spirit of giving back and paying it forward, a portion of the proceeds from the sale of the book and other items in the boutique will be donated to organizations that support women and children impacted by divorce.
I am, of course, available for interviews, speaking engagements, appearances, signings, and dance-offs. Maybe not that last one.
*** MAJOR BONUS: Let Go & Let God ***
Hubby (New One, Not The Old One) Justin Honaman makes an encore appearance on the High Velocity Radio Show to talk about his latest release: Let Go & Let Todd . . . Oops, Uhhh . . . Maybe that's "Let Go & Let God."
Justin Honaman
CLICK HERE to receive email notifications of the latest High Velocity Radio Show podcasts!