Dr. Bill Lampton/Championship Communication
Formed in 1997, Championship Communication – based in Gainesville, GA – has served top tier clients including Gillette, Duracell, Procter & Gamble, Ritz Carlton Cancun, British Columbia Legal Management Association, the Missouri Bar, and the University of Georgia Athletic Association. Dr. Lampton provides keynote speeches, directs seminars, and helps companies identify and find solutions to their communication problems. Additionally, he trains people on how to produce top quality videos with their i-Pad cameras. Google ranks him constantly among the top three Speech Coaches in Georgia. His presentation topics cover communication, sales, customer service, and motivation. His motto is "Helping You Finish in First Place!"
Marcel Williams/MSW Creative Services
MSW Creative Services loves what they do! While most other guys and gals spend their free time watching sports and going on dates, not them! They are up late watching camera reviews and photo-shop tutorials on YouTube. They're storytellers. Simple. Point. Blank. They're passionate about what they do and wouldn't want to have it any other way. At MSW Creative Services, they specialize in turning your ideas into visual stories that connect with your customers. There are a lot of creative services companies out there that are capable of shooting videos, taking photographs and building websites. But how many companies can do all those things while telling a story with a specific purpose, that drives an emotion and connects with your audience?
Don Conklin/Pinnacle Custom Signs
Pinnacle Custom Signs is a family-owned and operated full-service commercial sign company that focuses on providing high quality signs and services to businesses in the Atlanta and North Georgia area. They provide customers with a one-stop shop, since they do all types of signage from simple banners and yard signs, to vehicle graphics and wraps, outdoor signs, and a list of other services.  What sets them apart is their dedication to customer service. There are many companies that can make signs, but not everyone can service all the needs in a timely and service focused manner.
Courtney Spencer/Gwinnett Chamber of Commerce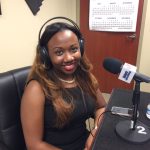 The Gwinnett Chamber is the forum for business, government, education, healthcare, arts/culture/entertainment, and philanthropic and public-service communities to come together to advance the region's economy and enrich Gwinnett's quality of life. The mission of the Gwinnett Chamber is to strengthen existing businesses, facilitate the growth of quality job opportunities, and enrich the community's quality of life. The Gwinnett Chamber serves over 2,000 members throughout metro Atlanta by delivering pertinent and useful programs that strengthen and connect businesses locally, regionally, and globally.
CLICK HERE to watch the video of this show on the Gwinnett Business RadioX YouTube channel.