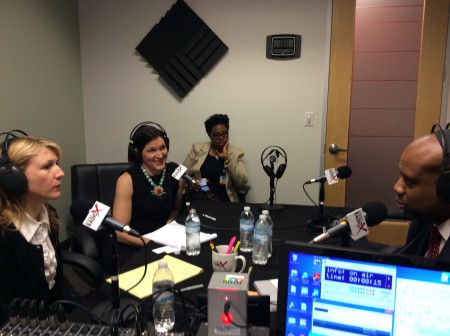 MARTA and Disadvantaged Business Enterprises
This week, Lara Hodgson, CEO and Founder of NOWaccount came by and brought experts from Atlanta's mass transit authority and a WBE who's worked with them to talk about MARTA and Disadvantaged Business Enterprises.  Ferdinand Risco is the Executive Director for Marta's Diversity and Equal Opportunity platform.  This arm of MARTA focuses on engaging Atlanta's disadvantaged business enterprises to provide them with opportunities to vie for contracts and sub-contracts to work with federally-funded projects around the community.
Ferdinand shared that their goal for DBE participation is 30% of contracts awarded to this demographic of Atlanta's business community.  He talked about the fact that there are business opportunities on a broad spectrum of needs from basic office supplies to construction, planning, and other services.  We talked about the online resources MARTA makes available to allow local business owners to easily review current and upcoming projects they could potentially participate in.
We also talked about the fact that business owners need to go through the effort to establish credit and corporate structuring to position themselves to be able to meet certification requirements for DBE status.  Through partnerships with GMSDC and SBA, MARTA helps business owners have access to these often-free education and mentoring resources, as well as access to necessary resources such as working capital.
Lara shared information about NOWaccount's recent partnering with MARTA to make their innovative capital solution available to the B2B community.  This solution gives business owners access to their AR capital within 5 days or less for 2.5% of the total AR sold.  In this way, NOWaccount gives B2B's quick access to the capital they've already earned so they can add new staff, take larger orders, or purchase in bulk on discounts they wouldn't be able to get otherwise.
Lara also introduced us to Heather Alhadeff, President of Center Forward, a transportation and land use planning firm based in Atlanta.  Heather is so committed to the value of mass transit, she hasn't owned a car in years.  In addition to avoiding headaches associated with driving with Atlanta traffic, she also has gained first-hand experience of what users of our mass transit system experience.  This affords her with insight to be able to recommend options that would improve on the experience and/or allows her to effectively engage community residents when discussing developments (growth or retraction) of mass transit, road systems, or urban land development.
We talked about why transportation is such a key element of urban or city planning, discussing examples of how mass transit availability can have unexpected impacts on such facets of our lives as healthcare delivery and other important functions.
Special Guests:
Ferdinand Risco, Executive Director of Diversity and Equal Opportunity, MARTA 




MBA, University of New Haven
Recipient, 2014 GMSDC The Ambassador Award
Former Bradley Platoon Leader, US Army
Previous Inclusion and Diversity Manager, MTA Metro-North Railroad
Heather Alhadeff, President, Center Forward   


BS Planning & Economic Development, Georgia State University
MBA, City Planning, Georgia Institute of Technology
Published Author
Part-time instructor, Georgia Institute of Technology
Lara O'Connor-Hodgson, CEO of Nowaccount Network Corporation 
MBA Harvard Business School
Former Adjunct Professor of Finance, Georgia Institute of Technology
Board of Directors, Georgia Regional Transportation Authority
Owner, Insomnia Group
Chairman of the Board, Atlanta Heights Charter School
Second Language–Japanese
Some backing music provided by: www.pacdv.com/sounds/