In the United States of America, divorce happens every 13 seconds (view infographic on the bottom of this post). Half of all couples get divorced. Financial reasons are the second most common ground for a divorce. So, what do you do? If you are curious to get this question answered, this episode of "Wealth Matters" – the radio show where we discuss the opportunities and challenges of preserving and managing wealth – is for you!
Attorneys Adam Gaslowitz and Craig Frankel interview guests Randy Kessler, Georgia O'Brien, and Larry Freiman on the hot topic of divorce and estate planning.
Randy Kessler/Kessler & Soloimiany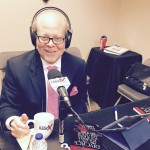 A nationally recognized expert on Divorce and Family Law, Randy Kessler is frequent guest on TV and appeared on such shows as The Today Show, Jane Velez-Mitchell, HLN, ESPN, "Outside the Lines", Dr. Phil, Nancy Grace, Prime Time with Erica Hill, as well as many others. He is the author of "Divorce: Protect Yourself, Your Kids, and Your Future," and is Publisher/Editor of the "Next" Magazine. Born in Gainesville, Florida, and raised in New Orleans, Randy graduated from Brandeis University and received his J.D. from Emory Law School. He is the Founding Partner at Kessler & Solomiany. With over 25 years of experience in Domestic Relations and Family Law, Randy has represented celebrities, such as former Denver Broncos running back Travis Henry, New York Jets wide receiver Braylon Edwards and NeNe Leakes of The Real Housewives of Atlanta. He has represented the spouses of celebrities, such as the wife of R&B singer Usher. He's gone after high-profile athletes, performers, and entertainers for child support, when it proved necessary. Today, Randy lectures regularly at Continuing Legal Education Seminars. He also teaches trial techniques at Emory Law School's Trial Techniques Program. For the past decade, he has taught a Family Law course at Atlanta's John Marshall Law School.
Phone: 404-688-8810
Email: rkessler@ksfamilylaw.com
Larry Freiman/MendenFreiman LLP

A founding partner of an Atlanta-based law firm, MendenFreiman LLP, Larry Freiman is a member of the Atlanta Estate Planning Council, a past Director for the Atlanta Chapter of The Society of Financial Services Professionals and for the Estate Planning Council of North Georgia. He has lectured to various groups on tax, business and estate planning, and charitable giving. He received his J.D. / M.B.A. degree, with highest honors, from the University of Florida in 1993, and a Bachelor of Arts in Economics, magna cum laude, from the State University of New York at Albany in 1989. He has served as the Chief Tax Editor for the Florida Law Review and earned a number of academic achievement awards in his law and business endeavors, including the honorary Order of the Coif, Beta Gamma Sigma, and Matherly Scholarship. Larry was a member of the inaugural class of The Philanthropic Advisors Leadership Institute.
Phone: 770-379-1450
Email: lfreiman@mendenfreiman.com
Georgia O'Brien/Family Financial Management

A Managing Director for Family Financial Management, LLC, a consulting firm that specializes in independent trust and estate advice for affluent families and individuals, Georgia O'Brien is a former Chief Financial Officer of Tyler Perry Studios, were she handled all financial affairs for the national celebrity. Georgia was a Vice President in Private Banking for 10 years, with Bank of America in Atlanta and earlier with First Union in the New York metropolitan area. She achieved her Certified Financial Planner designation in 1998. Georgia began her financial service career as a financial planner with Allmerica Financial in Tarrytown, NY. She is a member of the Certified Financial Planner Board of Standards, the Estate Planning Council of Northern Georgia, and was also a founder of the Essex County Estate Planning Council in New Jersey. Georgia is an active member of East Cobb Business Association. She earned her Bachelor Degree in Economics from the University of Massachusetts at Amherst.
Phone: 404-850-7930
Email: georgia@trustffm.com
About Gaslowitz Frankel:
Gaslowitz Frankel LLC is an experienced trial practice firm specializing in all aspects of complex fiduciary litigation, representing individuals, companies, banks, and fiduciaries in will, trust, and estate disputes; investor and financial advisor disputes; shareholder/partnership disputes; contract disputes; complex commercial disputes; and appeals.
To view all episodes of "Wealth Matters," visit this Pinterest board – click here
To watch the video introduction of our hosts – click here
To watch the video of this show – click here
Remember to come back and listen live every 4th Wednesday of the month at 8:30 am!
And follow us on Twitter for news and updates on the show – click here to follow @EstateDispute
Thank you for your support! Feel free to share this episode with your friends and colleagues.
INFOGRAPHIC: Divorce Statistics in the U.S.