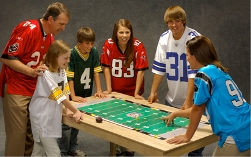 Please click on the POD button to listen to the latest Atlanta Business Radio show podcast broadcasting live each Wednesday at 10am EDT from Atlanta, GA, USA. Here's how to listen to the podcast of our show.
First click on the title of the show you are interested in. Then there should be a player in the upper right hand corner of the screen. Now just press play and the show you chose should start playing. You can also download the show to listen on your mp3 player. We are now available on iTunes, click this link and you can find all our past shows. Press SUBSCRIBE and you will automatically get the latest show when you sync your iPod to your computer.
Today's show is brought to you by TAB of Northwest Atlanta.The Alternative Board of Northwest Atlanta brings together owners of privately held businesses to overcome challenges and seize new opportunities with a combination of peer advice and strategic business coaching. Board members meet monthly to learn from one another's successes and mistakes and create more valuable and profitable companies. Achieve Greater Success with Peer Advice and Coaching with TAB of Northwest Atlanta. www.tab-nwatlanta.com
This morning we were fortunate to interview former Olympic level decathlete Spud Alford. Spud has founded an innovative game compnay called Zelosport. Zelosport creates products that put families back together again in the kitchens and living rooms playing wholesome games and building lasting memories. And with Finger Football, as well as all the games that have followed, the playing field is level…regardless of age, size, shape, athletic skills or ability, everyone has the same chance at winning. This game is licensed by the NFL and many collegiate teams as well.
Starting in the Fall of 2008, you'll begin to see and hear about the Finger Football national tournament holding local, state and a national championship. They'll provide a structured league format so that anyone wanting to compete on a national level will have that opportunity.
Spud hopes you will give Zelosport and one of their many games like: finger baseball, finger golf, finger soccer and of course the game that started it all finger football the chance to be a part of your family and the many memories you will carry with you throughout your life. For more information about buying your own game please go to their website www.zelosport.com or www.fingerfootball.com
We kicked off the show with Brent Brooks and Michale Harper from Blank Stage Productions.
Brent began his career performing as an actor fifteen years ago, and was a founding member of the Atlanta based "Comedy Response Unit" improvisation troupe. Brent began working behind the camera as well, and started his current production company, Blank Stage Productions, three years ago. Brent's first feature-length film, "Art of Suicide," was an Official Selection in the 2007 Asheville Film Festival and won "Best Underground Film" at last year's Indie Fest USA Film Festival.
Michael began creating his own stories at the age of eight. After years working as a freelance comic book writer and illustrator, he made the move into animation, and finally, to screenwriting. He is currently the Head Writer for Blank Stage Productions, and leads The Blank Page Screenwriters' Group.
The Blank Stage is unique among Atlanta-based production companies in its multifaceted approach to client needs. Blank Stage is a full-spectrum video production company, with a functional "black box" theatre space for live performances, and an instructional component, offering classes and workshops on a variety of aspects of the performing arts. For more information about their upcoming performances like Mr Right Enough and all of their video production and improvisation workshops please go to their website www.blankstageproductions.com
We closed the show with master networker Chi Chi Okezie. She is the author of the top selling book SIMPLEnetworking. She shared some of her best tips on netwroking, business etiquette, cultural awareness and image consulting. For more information about netwroking, Chi Chi, her book and all of her upcoming appearances please go to her website www.snseminars.com
Also if you know of a business in Atlanta that we should know about please email Amy Otto at Amy @ atlantabusinessradio.com and we will try and get them on the show.