Ryan McPherson, Trenton Spindler, Emily C. Bridges, Millard Choate
Millard Choate/Choate Construction
President
Millard Choate founded Choate Construction Company in 1989 from a basement office in his home. Currently celebrating its 25th anniversary, Millard has led Choate Constructions continued growth. Today, the company employs 390 full-time professionals and strives to lead industry in advances in Virtual Construction and Building Information Modeling, LEED® Construction and Consulting, Safety, and Risk Mitigation. Choate Construction is consistently ranked in ENRs Top 400 National Contractors and Top Southeast Contractor lists.
Active in several organizations, Millard serves as a Director on the Board of Fidelity Bank, is an active member in the Business Executives for National Security (BENS), and is a member of the Atlanta Rotary. He supports many philanthropic organizations such as the Cystic Fibrosis Foundation, The Shepherd Center, HomeStretch, various university scholarships, and other military family support charities, to name a few.
www.ChoateCo.com    Cars & 'Q for the Cause   
Emily C. Bridges/Choate
Marketing Director & Event Chair for Cars & 'Q for the Cause
Emily C. Bridges joined Choate Construction Company in 2008 and focuses on designing, implementing, and facilitating the marketing plan and direction. Specifically, she handles marketing strategy development, public relations, brand management, client presentations, internal and external communication, collateral, philanthropic efforts, and ensuring multi-office marketing consistency.
In addition to her professional duties, Emily has served as a Member on the Georgia Cystic Fibrosis Foundation Board of Directors for five years and was recently presented with the national Jena Award, the highest honor bestowed to an individual by the CF Foundation, for her fundraising and volunteer efforts. She is also on the board of the Real Estate Group of Atlanta (REGA), the Advancement Board for Real Estate Development at Clemson University, and an Emeritus Board Member on Andees Army, a 501c3 that supports children and youth affected by brain injuries.
Trenton Spindler/GreenPrint
Co-Founder, SVP, Strategy and Products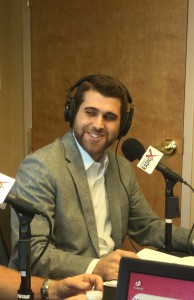 Trenton is a proven leader, operator, and innovator. As Vice President of Operations and Products, at mobile advertising firm, ThumbFriendly, Trenton helped to lead the company from its inception to sale in early 2014. In addition to his strategic responsibilities, Trenton helped to oversee numerous investment rounds and developed the proprietary technology that helped the company innovate and drove growth. Trenton has built relationships with numerous investment groups, strategic technology partners, agencies, and channel partners which he leverages on an ongoing basis. Trenton brings strategic insight, knack for innovation, and creativity in both developing products and corporate strategy to the GreenPrint.
www.GreenPrintCorp.com   Twitter   Facebook   LinkedIn   www.MyZeroFuel.com Facebook  (MyZeroFuel)   Twitter (MyZeroFuel)