Ryan Pernice, Mike Rose, Madison James, John Pollock, Roy Brostrand, Craig Williams
Roy Brostrand/Co-Founder The Philly Connection
Although The Cheesesteak Sandwich originated in Philadelphia, Pennsylvania, in 1979, Roy Brostrand came up with the concept for a Cheesesteak business and opened a store in South Jersey. Later, he sold it to move to Atlanta.  In 1984, in Atlanta, the Philly Connection® concept was developed and introduced– that restaurant continues to operate today. The company then opened additional locations and, in 1988, franchise operations commenced.  Raymond Gaspart and John Pollack purchased Roy's shares and took the Philly Connection® to a whole new level, building the multiple store franchise concept nationwide. Back in 1984, Roy Brostrand and John Pollock were instrumental in the birth of the Philly Connection® and now with, Raymond Gaspart, they're writing the next chapter as Philly Connection Food Trucks serve Philly Cheesesteaks all over the country in state-of-the-art mobile food trucks.  The Philly Connection developed a recipe for the steak meat used to make Philly Connection's proprietary Cheesesteak sandwich. The recipe includes a certain cut of whole-muscle beef, a secret marinade and a special processing technique that produces a high-quality, great-tasting, juicy, tender sliced steak product that is still used today by the Philly Connection® network of franchise restaurants. Those same time tested recipes will also be used on the mobile Philly Connection Food Trucks.  Roy Brostrand and his partners John Pollock and Raymond Gaspart are excited to be launching new food truck franchises nationwide. With the launch of social media such as Facebook and Twitter and the use of GPS, loyal and hungry fans of Philly Connection Food Trucks can find out where their favorite food truck will be serving each day.  Brostrand says, "Because of social media and the applications that are available today, people can find us at various food truck and corporate events. With Twitter we can instantly send out video of where we are. Facebook helps people keep up with us as we set up around the metropolitan area as well."  Christopher Conner, President, Franchise Marketing Systems says, "In my 12 years in franchising, I haven't worked with many brands that match the potential of the Philly Connection Food Trucks system. Roy Brostrand and John Pollock are fantastic leaders, great communicators and have an inspiring vision for growth, I am honored to be associated with the brand and them personally."  The Philly Connection Food Trucks Franchise  The Philly Connection Food Truck is a natural in the burgeoning food truck industry. Brostrand, Gaspart and Pollock saw the potential. They knew that the Cheesesteak was the perfect sandwich to be sold on a food truck and the rise of social media would be the perfect way for the mobile business to be found.  Mobile food truck franchise owner Jeff Wheeler adds, "Owning a food truck, especially one that is offering quality food, like our cheesesteak, fast service and one that is in reality the only one like it in the Atlanta area, is a worthy investment on my part. There is a lot of time involved, but a good return on my investment of time and money."
www.PhillyConnectionFoodTrucks.com     Twitter     Facebook     Press Release
John Pollock/Co-Founder The Philly Connection Food Trucks
Since 1984, Atlanta-based Philly Connection® restaurants have been perfecting the Cheesesteak sandwich.  Starting in January of this year, after years of studying the food truck concept, Philly Connection Food Trucks became a realization by entering the booming Food Truck Industry!  Philly Connection Food Trucks, serving the high-quality Philly Connection® Cheesesteak and Chicken Cheesesteak sandwiches, will be "hitting the road" to bring "Cheesesteak Perfection" to public and private events throughout the Southeast and beyond, as new Philly Connection Food Truck franchises come on board.  Philly Connection Food Trucks differentiates its food trucks through its specially designed mobile kitchen layout allowing each of its food trucks to efficiently and promptly serve the delicious, award-winning Philly Cheesesteaks and Chicken Cheesesteaks as today's food truck customers seek great-tasting, high-quality menu items.  The clear mission of Philly Connection Food Trucks is to provide our food truck customers with a great Philly Connection® food experience at their favorite public venues or at their own private events!
www.PhillyConnectionFoodTrucks.com     Twitter     Facebook     Press Release
Madison James/KIND Snacks and Atlanta BeltLine
In less than a year, Madison James has taken the Atlanta lifestyle scene by storm. Born and raised in  the South, the Jackson, Tenn., native arrived in the Peach State, as the afternoon drive personality on  Atlanta's B98.5 FM in February 2013. In such a commuter-heavy city, Madison has quickly solidified  herself as a favorite voice among Atlanta's varied radio listeners.  In fact, Madison's afternoon radio show is consistently ranked as a top performer among various  demographics, including adults and women, according to Atlanta-area Nielsen ratings. Her show is  heard by over 750,000 people in the metro-Atlanta area each week giving Madison the largest afternoon  audience in the market. Madison also has a passion for fitness. In July 2013, the former Division I collegiate athlete and National  Physique Committee figure competitor teamed up with the Atlanta-Journal Constitution to produce a  weekly segment, and share her passion with the Atlanta community. The self-proclaimed fitness addict  launched "Atlanta's MAD About Fitness", a video blog offering insight on incorporating healthy habits into  the everyday lives of the city's bustling residents. Her AJC blog receives 10,000 page views a month and  continues to grow with popularity. Most recently, Madison made her Atlanta-area television debut as a correspondent for WSB-TV's weekly  entertainment roundup, "Hot Topics," in January 2014. The lively broadcast, also airing on sister stations  WFTV in Orlando, Fla. and WSOC in Charlotte, N.C, covers unbelievable stories from around the country.  In addition, Madison graced the cover of Best Self Atlanta for the "What's Hot for 2014" issue, and is  featured in the March edition of Atlanta Magazine. Madison is also a spokesperson for New Balance  Footwear and KIND Snacks. Having developed an impressive presence on three of Atlanta's major mass media platforms – radio,  print, and TV – in under a year, Madison continues to cement herself as a trusted source of all things  lifestyle. In the coming months, the triple-threat plans to continue her multi-media efforts and focus on collaborating with her community. She has a genuine passion for empowering people to live their best  life. Madison looks forward to connecting with more Atlantans, having fun & feeling good while doing  so.
Blog     www.BeltLine.org     www.KINDsnacks.com     Twitter
Ryan Pernice/Table & Main and Osteria Mattone
With more than 15 years' experience in the hospitality industry, Ryan Pernice demonstrates a  passionate commitment to excellence in his restaurants, Table & Main | a southern tavern and Osteria  Mattone. Raised in Roswell and a proud graduate of Roswell High School, Ryan opened Table & Main in 2011  featuring "simple, seasonal and Southern" cuisine. Upon opening, Table & Main earned early acclaim  from critics and diners alike. Though awards are nice, Ryan is most proud to have built a restaurant  that his friends and neighbors can consider their "neighborhood spot." Ryan and his partner, chef Ted Lahey, decided to open Osteria Mattone to offer Canton Street its  only Italian restaurant. After all, what better way to build on their success than with a bowl of pasta  and a glass of Barolo? Combining the casual spirit of an osteria with the more formal dining of a  Roman trattoria, Osteria Mattone also puts a great emphasis on a beverage program driven by Ryan's  brother, Daniel. To distill his vision for the restaurant, Ryan traveled to Italy with Executive Chef  Lahey to eat his way through 31 restaurants in seven days in Bologna, Montepulciano, Naples, and  Rome. In 2009, Ryan helped open Maialino, a Roman trattoria in New York City's Gramercy Park from  award-winning restaurateur Danny Meyer of Union Square Hospitality Group. Lauded with accolades  by Forbes, Esquire, New York Magazine and the NY Times since its debut, Maialino set a high standard  for Ryan's dream of opening his own restaurant. Prior to opening Maialino, Ryan gained valuable  experience in restaurant consulting at Avero, LLC, an innovative business-intelligence company  catering to the country's top restaurateurs. After working in several local Roswell restaurant kitchens throughout high school, Ryan attended  Cornell University's School of Hotel Administration where he graduated with highest honors in 2007. Ryan lives in Roswell and enjoys exploring the dining scene in and around Atlanta, sharpening his  bocce ball and pool table skills with friends and attending local concerts.
www.TableandMain.com     Twitter     Facebook
www.OsteriaMattone.com     Twitter     Facebook
Mike Rose/Starkey Mortgage
Currently, a Senior Loan Officer with Starkey Mortgage.  He was a successful loan officer for many years with both Wells Fargo and Bank of America. His business network include real estate agents, financial planners, builders and many satisfied clients. He has closed millions of dollars worth of loans and helped many people purchase their first home. In 2008 and 2009, he reached Platinum Club status as in the top 5% of producers for Bank of America.   Before starting his career in mortgage banking, he worked primarily in talk radio broadcasting As a producer, talk host and finally Program Director at News Radio WGST in Atlanta, Mike has proven experience in creating the best radio programming in the business.  He spent many fun years as part of the team that helped to create brand names out of radio personalities such as consumer guru Clark Howard, Neal Boortz, Sean Hannity, and Kim Peterson . In 1999 and 2000, Mike took on the challenge as General Manager of the eclectic Voice of the Arts, 1190 WGKA.   Mike is also a radio personality in his own right.  He hosted the daily issue oriented talk show, on Talk Radio 1340, WALR-AM .  Creative Loafing readers voted The Mike Rose Show the "The Best Radio Show to Seek Out" in 2003.
www.MikeRoseMortgage.com     Linkedin     Facebook
Craig Williams/Global Authority Agency (Co-Host)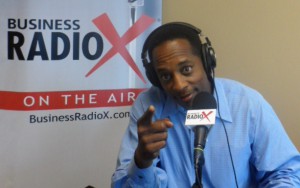 Craig, husband of one, father of four, is a consummate connector,1st generation social entrepreneur, and a true creative, working within the margin of safety while mastering his circles of confidence. Organically creating history by powerfully influencing culture.
www.GlobalAuthorityAgency.com     Linkedin     Twitter
Buckhead Business Radiox Guest Wall of Fame!