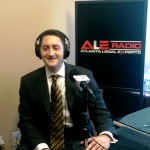 Taylor Harper w/ Taylor, Feil, Harper, Lumsden & Hess, P.C.
Taylor Harper's practice focuses primarily on regulatory compliance and litigation in the beverage-alcohol industry. Specifically, he focuses on assisting supply-tier companies, e.g., breweries, distilleries, wineries, etc., companies on the wholesale tier, and retail-tier companies, e.g., restaurants, hotels, package stores, etc., in administrative, regulatory, and litigation matters at the federal, state, and local levels.
The beverage-alcohol industry is highly regulated and governed by a complex web of laws from multiple, intersecting jurisdictions. In his regulatory compliance practice, Mr. Harper helps individuals and companies navigate this gauntlet with care, foresight, and precision to protect them from mishaps and position them for success. On the litigation side, he uses his industry expertise to achieve the best possible solution for his clients, whether through trial or negotiated resolution.
Mr. Harper has been neck-deep in the beverage-alcohol industry for the past few years, and the firm has been a leader in this practice area for nearly 40 years. He is regularly asked by government officials, legislators, and trade organizations to explain the ins and outs of the industry. He has presented at multiple conferences, such as the Annual Conference of the National Conference of State Liquor Administrators and the Annual Southeastern Craft Brewers Symposium.
Mr. Harper's beverage-alcohol practice encompasses licensing and permitting, franchise regulation (including proceedings concerning notices of intention to change wholesalers), trade practices regulation, promotions regulation (including regulation of point of sale materials and consumer specialty advertising), brand and label regulation, trademark, taxation (including excise taxes and sales-and-use taxes), importation, and related real estate, leasing, and landlord-tenant matters. The firm also handles related federal and state court litigation such as constitutional and antitrust challenges (such as Commerce Clause and Sherman Act) to the three-tier system for regulation of alcoholic beverages, and constitutional challenges to differential taxation of imported alcoholic beverages (such as Commerce Clause and Import Export Clause).
Mr. Harper also works in the firm's construction and real estate litigation practice. On the construction side, he has experience in advising on and litigating materialman's and mechanics' liens, contract compliance, and construction defects, among others. On the real estate side, his practice encompasses landlord/tenant disputes, boundary/encroachment issues, and zoning matters, among others. He litigates claims arising under purchase and sale agreements, option contracts, and leases. He also handles commercial foreclosures.
"Ultimately, my goal is to give my clients more in value than I take in payment," says Mr. Harper.
Outside of legal work, Mr. Harper serves as the Chairman and President of Maji Mazuri USA, a non-profit organization helping to alleviate poverty in the Mathare Valley slum located in Nairobi, Kenya. He is a member of the Rotary Club of Buckhead, and is currently participating in the Leadership Buckhead Program.  More than anything, though, he enjoys spending time with his wife, son, daughter-on-the-way, and two labs.
Website     Twitter     LinkedIn     Facebook     AVVO
Nancy Palmer w/ Georgia Craft Brewers' Guild
Nancy is the Executive Director of the Georgia Craft Brewers' Guild which is the trade organization representing the craft brewers of Georgia.  Founded in 2010, the Guild is organized to promote, protect and further, in every lawful manner, the common interests of the members and the licensed brewing industry in Georgia.  Nancy Palmer is a perennial student of the beverage industry, having spent a decade exploring all facets of the business.  Though she's concentrated on wine for most of her career, she's found tremendous pleasure in learning about both beer and spirits.  Her favorite aspect of the business is certainly education – she enjoys making the complicated and often intimidating world of high-end beverage accessible and interesting for anyone with any background.
Nancy's career began while working for Five Points Bottle Shop in Athens, Georgia. After graduating from the University of Georgia she worked at several establishments not only waitressing and bartending, but also conducting many wine classes at area restaurants.  She then went on to become the wine buyer for Athens' largest volume package store, Five Points Bottle Shop West. After a very successful stint there, she moved on to try her hand at the distribution side of the beverage business. She worked for Avant Partir representing the best international wine portfolio in the state and became familiar with the best restaurants and shops throughout Georgia and South Carolina.
Robert Fabbrini General Manager of Red Brick Brewing Company
Robert joined the Red Brick team in January of 2010 because he desired to make a switch from the technology industry to food and beverage. There was actually no position available when he made his inquiry, but he managed to talk his way in by offering to help out with a special project. Ironically, Roberts first experience with craft beer was at a tour of Red Brick Brewing Company in the late 90s at our old midtown location. Since then, hes developed an appreciation for craft beer. Robert is a champion in Red Brick's quarterly employee brew-off. Robert has a Marketing degree from Auburn University and a degree in Italian language from Florida State University, which he used it to sell Red Brick internationally. Red Brick was recently recognized by the Governor of GA as the 1st Georgia craft brewery to export beer.