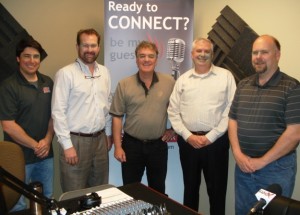 Kile Lewis/oXYGen Financial
What's the scoop about oXYGen Financial? "Guitar Hero" is to a financial services firm what a treasure chest full of toys is to a dentist's chair: it doesn't change the office operation, but at least it makes you quit yer snivelin'. Face it, kids, we all have to do our financial planning and our income taxes unless we want to get cavities. No, wait. That's not it. We all have to do taxes lest we end up like Wesley Snipes. The way they see it at oXYGen Financial, you might as well have financial advisors that are not only good at planning your future, but also deliver your experience with a twist of fun… and an oxygen bar in the lobby just in case you need a last-minute happy boost before you get down to business with them.
oXYGen Financial is a full service family office offering financial services for the X and Y generations. Their mission is to help clients breathe easier about life by providing financial advice, wealth management, insurance, group benefits and tax and accounting services. oXYGen Financial also offers coordination of legal services and concierge services. They aren't your parent's firm, but oXYGen Financial can help you breathe easier… and it will feel a lot less like having teeth pulled. Take a spin today!
Paul Kendig/Dinova
Dinova brings corporations and restaurants together in a formal business relationship. Their corporations dine at the preferred restaurants that are on the program.
Mike Haswell/Storing Treasures
Storing Treasures is dedicated to providing new and unique options regarding financial coaching. Rather than assuming everyone responds to handling finances in the same manner, Storing Treasures recognizes each person's unique financial personality regarding money. The Financial Personality Assessment is the cornerstone of the entire Storing Treasures program. Our financial personalities are driven by specific traits that define how we think and how we behave financially.  In order to reach many more people with the Storing Treasures approach, they have developed a new web-based program called STAFF (Storing Treasures Automated Financial Foundation). STAFF is a unique, one of a kind educational platform designed to provide the user with a personalized plan. It is an 8 session course that allows the individual to learn about educational topics and then input their own information into a secure environment. Individuals can then get a personalized report, based on their own financial personality, that they can use time and time again.  Once you understand how you and those around you are wired from a financial standpoint, you can make better decisions that will ultimately lead to better communication, lower debt, higher savings and improvement in your finances.
Storing Treasures promotes this program to employers, financial professionals, churches and non-profits as a way for these organizations to provide a new program for those they serve.  Statistics show the incredible amount of time people worry about their finances in any given day… leading to stress-related illnesses, absenteeism and a lack of productivity. Your organization will become stronger by offering a way for people to get the basic financial help and support they need…. helping them become a better employee.
Gwinnett Business Radio
Each week, from the Business RadioX studio in Gwinnett, our hosts interview Gwinnett County's top businessmen and businesswomen to learn what makes them the best at what they do.