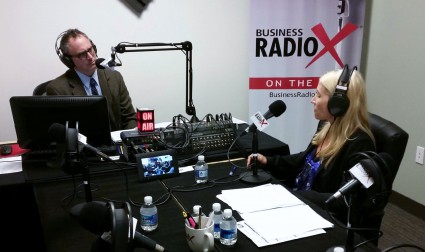 Today I sat down with Megan Heinze of Elavon merchant services, one of the world's largest provider of merchant payment processing services.  The company was founded in Atlanta in 1991 as NOVA Information Systems, with a focus of providing services supporting small- to mid-sized companies.  The company combined forces with USBank, who brought a compliment of large client companies from around the globe.  Elavon continues to innovate payment processing services, providing a range of technologies, access to key business data, and customer loyalty options that help companies operate and grow more efficiently.
Megan talked about Elavon's platform called, "Talech", which gives the small- and mid-sized company owner the ability to use a variety of devices, including tablets and smart devices, to take orders, process payment, manage inventory, assess sales histories for their products/services, and more—all at their fingertips.  This platform gives the small- to mid-sized business owner the ability to more efficiently "wear the many hats" that small company executives often have to wear to operate their business.  Additionally, Elavon provides the business owner with the ability to offer "cardless" customer loyalty programs that are highly customizable.  Customers are able to be recognized by either their credit card or phone number, eliminating the need for a punch card or cumbersome rewards card they have to carry to be able to accrue/redeem the rewards they qualify for.
For companies in the hospitality and food/beverage spaces Elavon has partnered with Micros, the maker of point-of-sale platforms to enhance the level of security from end to end.  This collaboration will help reduce risk for both the merchant and their customers.
Special Guest:
Megan Heizne, Senior VP/General Manager, US Bank Payment Solutions & Partner Channels of Elavon 

>20 years of high-level leadership rolls in banking/finance
MBA, Duke University
Board Member, Head of Audit Committee, Littleford Day, Inc