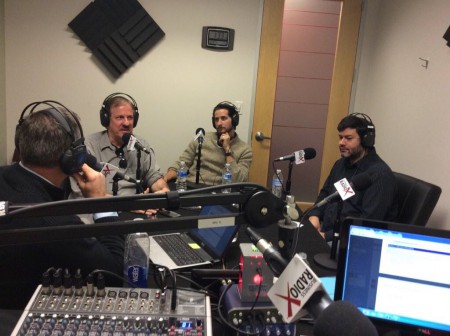 Intellectual Property, Film, Music and Sound Production, and Theater
Today's show focused on the entertainment industry.  I sat down with experts in Intellectual property, film, music and sound production, and theater.  John Seay, from The Seay Firm LLC is an attorney who focuses his practice on the entertainment space.  He talked about how in reality he's a small business attorney whose major client base comes from the entertainment sector.  He serves many small business owners in matters of intellectual property and issues such as trademarks, copyrights, and more.  John is a practiced musician who's been known to perform in the Atlanta area.  And, he's been honored to fulfill his role as legal counsel for the Wilson Pickett estate–making him particularly proud being a fellow Alabama native.  John shared some excellent advice for artists who are producing work in print and media with regard to protecting the intellectual property they produce–including things they can do without the help of an attorney that will give them additional recourse in the case of infringement by another party.
John brought along guests Marcus Blackwell, of Make Music Count, and Philip Justman, of Saiah Arts International.  Make Music Count is an innovative curriculum for improving understanding of mathematics in young students using music instruction on a keyboard.  His approach has proven to be highly effective in children in the Georgia schools where his curriculum is being employed as an after-school offering.  Philip Justman joined us to talk about his work at Saiah Arts International, a theater production he has with his wife, Marium Khalid.  They provide a cutting edge, immersive theater experience.  They place great focus on story telling and character development in their productions, which may take their intimate audience through a half mile to a mile of walking through an outdoor set in the elements as they follow the cast moving through an expansive set in the elements.
Chris Ethridge, of Blue Dusk Promotions came by to talk about the recent release of their motion picture, "Attack of the Morningside Monster", a thriller-horror film.  Chris shared a little about the plot of the story along with some of the well-known acting talent they were able to include in the making of the film, including: Nicholas Brendon, Tiffany Shepis, Robert Pralgo, Catherine Taber and Amber Chaney.  The movie, which is available in several video-on-demand outlets, is also going into distribution on DVD/Blueray and has shown popularity with audiences abroad as well.
Our producer, Krista Berutti introduced us to music and sound production specialist, Greg Shearer, of Street Level Sound.  StreetLevelSound adds Floor and Decor to the growing client list as well as the new credits in the TV shows "Revenge," "Keeping Up With The Kardasians," and "Storage Wars." Another recent new agency client was BBDO of New York!  They also have worked for such clients as AT&T, BMW, Dell, Kellogg's, Lysol, Conoco Oil, Quaker Steak and Lube, Unocal, Dannon, Kraft, Aetna Insurance, Hard Rock Hotels and Casinos, HIghmark BCBS, TrueValue, Disney, and others. Street Level Sound has worked with agencies including, Leo Burnett, GSD&M, 22 Squared, and Mullen. StreetLevel has also contributed to network shows like "Veronica Mars," and "10 Things I Hate About You," Showtime's "Sleeper Cell," and regularly to Harpo Productions. The company does great sound design and audio post too!  Greg discussed his work  in the sound and  music production space along with his long-time experience in the recording industry and how those combined experiences make Street Level Sound a popular choice for advertisers and movie/TV productions.
Special Guests:
John Seay, of The Seay Firm LLC 


JD, University of Georgia School of Law
Former Tour Manager, Saddle Creek Records
Author of Multiple Published Articles on Entertainment Law and Other Legal Topics
Legal Counsel for the Wilson Pickett Estate
Marcus Blackwell, CEO of Make Music Count 


BS, Mathematics, Morehouse College
Former Modeling Analyst, GE Energy
Trained Pianist in Jazz/Classical and Self-taught in Gospel Music
Music Director, Elizabeth Baptist Church
Chris Ethridge, Co-founder of Blue Dusk Productions
Director, "Attack of the Morningside Monster" Motion Picture
Senior Software Engineer, Insight Catastrophe Group
BS Computer Science, James Madison University
Greg Shearer, of Street Level Sound 
DMA, Composition, Northwestern University
Bachelor of Music, Guitar Performance, Indiana University
Nominated for Emmy for work on Oprah Winfrey Specials
Multiple-winner of Addy and AIR awards
Philip Justman, Co-founder of Saiah Arts International 

20 major awards within 3 years Including: Best Theatrical Show 2012, 2013 and 2014, the Inspiration Award from the City of Prague, and the prestigious Creativity and Arts Impact Award from Emory University.