Pensacola Business Radio 1.5.16
Guests: Kristen Marks / My Pink Lawyer, Patti & Doc / MB Family Foods, Pat Murphy / Success…It's Up To Me, Zach Cockfield / Comprehensive Wealth Management
WHY WE DO IT
To help your company and the market you serve Get The Word Out.
No Big Media ambushes, traffic reports, and commercial interruptions.
We feature Business Professionals interviewing their peers, drilling down
on the critical issues, and delivering practical information to an engaged audience.
Business Is Good.  Your Work Matters.  Share The Air.
Get The Word Out
Kristen Marks / My Pink Lawyer
Attorney at Law
Kristen Marks, founder of My Pink Lawyer®, has worked with women & families for over 20 years helping them with their Wills, Trusts, Estates & Guardianship needs. Kristen understands that many women often feel intimidated or overwhelmed when it comes to legal matters. Never intimidating nor stuffy, Kristen prides herself on being a lawyer for "wise women."
You don't have to be rich to benefit from practical and effective estate planning, including Wills, Trusts and naming guardians for your kids. EVERYONE has an estate plan whether you know it or not. A written estate plan custom designed for your family, however, will ensure that YOUR wishes are carried out in the event of your incapacity or death.
Other services offered by Kristen and her team at My Pink Lawyer® include:
Uncontested Probate & Trust Administrations following the death of a loved one to facilitate the orderly (and hopefully, easy!) transition of money and assets from one generation to the next
Special Needs Planning for parents to ensure a disabled child's public assistance benefits are not jeopardized by any inheritance
Appointing Guardians for Minor Children
Appointing Guardian Advocates for developmentally disabled adults
Much to clients' delight, all matters at My Pink Lawyer® are handled by flat fee (no surprise bills!) and free, no obligation initial consultations are offered.
Kristen has been married to her husband, Andrew, who is also a lawyer, for over twenty years. They have two teenage children together. They love to travel as a family with Latin America being a favorite destination. Kristen is an avid reader and loves the beach.
Besides practicing law, Kristen is also an entrepreneur, author and public speaker.
Kristen is on a mission to empower and inspire women to get organized and plan ahead to protect themselves and their families.
WEB      FACEBOOK        GOOGLE+      LINKEDIN        TWITTER      YOUTUBE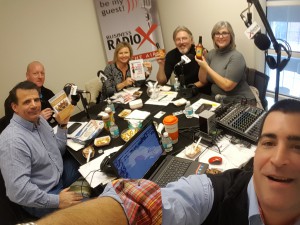 Patti Maxwell & Doc Bruce / MB Family Foods
Owners & Taste Memory Creators
MB Family Foods is a Pensacola company that produces two award winning Jamaican Sauces: Doc's Jamaican Jerk Sauce and Doc's Jamaican Hot Sauce. Owners Doc Bruce and Patti Maxwell are culinary alchemists!  With a unique pepper and over fourteen Caribbean spices they have created a magical elixir that will seduce your taste buds and take you on a unique and exquisite foodie journey!
Doc and Patti think outside of the bottle when it comes to their organic, gluten-free and award-winning sauces. Their website boasts original Caribbean inspired recipes. Customer favorites include: "Jammin' Grits", Rasta-Primavera, Oysters Rastafeller and of course the traditional Jamaican Jerk Chicken! They've grown their business from it's humble beginnings when they prepared their sauces in a permitted kitchen they rented to now using a co-packing facility that allows them to cook their sauces in larger batches for greater distribution to retailers throughout North West Florida.
Add some Caribbean spice to your life with Doc's Jamaican Sauces, mon!
JERK SAUCE
J

erk rubs and sauces have been used for centuries in the Caribbean and were first developed by the Arawac Indians as a method of preserving and cooking meats, poultry and fish. Today, Jerk Sauce is used to create some of the world's most exciting and uniquely delicious dishes!
O

ur award winning gluten-free Jerk Sauce comes in 12 oz bottles and is

 

the best of the best!  Semi-sweet, rich and tangy, mildly spicy and delicious, Doc's MB
Family 

Jamaican Jerk Sauce

is made with a perfect blend of fine, imported Caribbean spices & herbs and our own unique hot peppers known as "Doc's Darling Caribbean Reds"
These very sweet deep-red peppers, when combined with other spices & herbs and cooked into our mouth-watering sauce, are unique in flavor and delicious beyond description.  Suffice it to say, the end result is a very happy sauce enjoyed by all.
I

f you have never experienced authentic Jerk Chicken, Pork, Beef or Fish, you are in for a real treat!  Heat up the oven or fire up the grill and experience the aroma and taste of sheer bliss!
---
HOT SAUCE
Being a hot pepper lover, I can't even begin to tell you how many different hot sauces I've tried over the years. What I

can 

tell you is that I never stopped searching for the

perfect 

sauce.
C
all me fussy, but I have certain standards I look for in a hot sauce…
I like it hot, but not to the point that it sears taste-buds and makes my face go numb.  I like pepper-based hot sauces and don't much care for the tomato-based ones.  I like peppers to be the dominant flavor and not the vinegar.  And I like a touch of sweet, but not so much that the taste of the peppers is overwhelmed or altered. 
Over a span of years, my hot sauce recipe has changed many times until the delicate balance between the 13 flavor ingredients and the peppers became just right in both heat and flavor.
Here's how one customer wrote and described our hot sauce: 
With the first taste of Doc's Jamaican Hot Sauce you will notice surprising waves of Island flavors wash over you as the heat begins to build. Then the heat will keep building until you begin to wonder if it's going to grab the wheel and take over, but just shy of exceeding the speed limit the heat backs off in perfect time for the next bite."
We agree! Try our award winning hot sauce, now gluten free and we think you'll agree too!
* In terms of a heat, most customers rate our
Doc's Jamaican Hot Sauce
somewhere in the 5 to 7 range on a heat scale of 1 to 10.
Pat Murphy / Success….. it's up to me!
Company Trainer-Public Speaker-Author
Success in business is more than just a powerful business plan and adequate capitalization. Today it takes a team of professionals to make any business succeed, and quality training can give you a significant advantage.
Pat Murphy has taught over 100,000 people around the world.

He has helped hundreds of companies make a significant impact in teamwork, customer service and profitability.

Some of his high-IMPACT training programs include:

Communicate effectively in the Workplace
Be a Leader NOT a Manager
Provide Exceptional Customer Service
Manage Multiple Projects and Deadlines

Out of 400 trainers at SkillPath Seminars, Pat has been recognized as the:

Rated Customer Service trainer in

2004, 2005, 2006, 2007, and 2009.

Rated Managing and Supervising Employees trainerin 2009, 2010, and 2012.
Rated Communicating in the Workplace trainer in 2008, 2009, and 2011.

Pat is rated in the TOP 2% of ALLtrainers at SkillPath Seminars in 2007, 2008, 2009, 2010, and 2012.
Providing training for your employees is one of the BEST investments your company can make.
Zach Cockfield / CFO Advisors
Financial Advisor