Foodie Life is a Culture Brand who's mission is  "To Seek the Flavor of Life through Food, Culture and the Human Experience."
Foodie Life people—lovers of flavor, food, adventure, culture, night life, travel and —are a true community of their own. Our first move was to tap into the strength of that community by telling Foodie Life stories and uniting them around a lifestyle. Next, we are building the ecommerce program, launching with a fresh Foodie Life website design and a strategic email marketing plan to fuel online shopping. Introducing visuals and messaging giving the brand an edge that matches the energy of Foodie Life.
Foodie Life Radio Hour is a platform for Fellow Foodies to share some of their passions and experiences in the Hospitality and Culinary arena. A collection of funny stories, cultures, flavor and human experiences!!!
Chef Joe Abston, owner of Hopjacks Pizza Kitchen & Taproom and The Tin Cow, oversees the culinary direction of Pot Roast & Pinot and Edible Invaders. A Pensacola Tate High School graduate homegrown chef learned the right way. Chef Abston started his culinary training at PJC before graduating from the culinary elite Johnson and Wales University, building the foundation for his epicurean adventure.  Humbly Joe applied his education working around the world diversifying his culinary portfolio in such great places as the Ritz-Carlton and Le Bec Fin. Starting in 2008 Joe focused his energies in the downtown Pensacola area – a then small foodie scene. One of the earlier downtown revitalization pioneers, Joe was pivotal on the growth of the downtown area, and continues to further the downtown scene advocating for Gallery Night and chairing the up & coming Palafox Wine Walk. Chef Abston isn't done yet with more exciting concepts early in the planning stages.
HOPJACKS      TINCOW        POTROAST & PINOT             TWITTER            FACEBOOK             EDIBLE INVADERS
Renee Legere is the Marketing Manager for Hopjacks Pizza Kitchen & Taproom, Pot Roast & Pinot & The Tin Cow.
Legere has over 10 years of experience in the restaurant industry and brings marketing experience from her work at the corporate office of Another Broken Egg Café of America, Inc.  She attended Florida State University in Tallahassee, where she received degrees in both Hospitality Management and Human Resource Management. She is an active member of the Junior League of Pensacola, Ambassador of the Greater Pensacola Area Chamber of Commerce, Junior League of the Emerald Coast, Florida Public Relations Association and served on the executive board for the Cattle Baron's Ball for the American Cancer Society.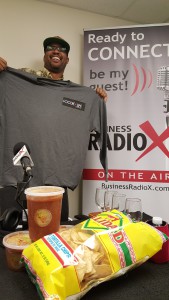 Tony Ingram / Tony Tejas Salsa
Company Biography
Tony's Tejas Salsa is a DBA of Ingram Family Corporation (IFC)
IFC was incorporated in 2011.  IFC's mission is to "Engineering a new business model that prioritizes humanity". IFC's focus is on nourishing entrepreneurship and building financial foundation for families. Founded by Anthony Ingram, a visionary with over two decades of food industry experience. Tony's Tejas Salsa is the flagship product of the company. Our brand has over 100 members of the Tony's Tejas Salsa Profit Share Group investing funds, time, and ideas. Tony's Tejas Salsa is on the path to being the next house whole name in salsa and an international product over the course of the next 25 years. Born in Houston, TX but produced and operated in Mobile, AL. Sold across the gulf coast, our brand has developed a grass roots following with regional demand.
Tony's Tejas Salsa Product Line
Tony's Tejas Salsa is an all-natural fresh premium salsa & marinade, which is low in sodium, has  no added sugar and has a bold vibrant flavor.  It was invented 10 years ago to be a salad dressing for a chicken fajita salad off of the "Tj's Eat Like We Eat" restaurant concept menu.  Blended fresh and kept refrigerated, Tony's Tejas Salsa is made of the highest quality ingredients. Roma tomatoes for their rich robust flavor. Fresh purple onions, cilantro and garlic to enrich our salsa with antioxidants. Yellow bell peppers for a smooth flavor with a natural sweetness. A combination of 5 chilies that gives your pallet a burst of southwestern kick. Last but not least a blend of healthy spices swirled into the mix, making it the world's best salsa. Just ask the folks who eat it. Tony's Tejas Salsa has three flavors. Original; a full zesty flavor with a little kick at the end. Caliente; tongue pleasing heat from beginning to end with Habanero and serrano peppers added. Beverley Ann's Mild Blend; a smooth tangy mix with no heat, but with an enough chilies to be authentic Texas salsa. Tony's Tejas Salsa will have a full line of products infused with the world's best salsa, from "Tejas Southwestern Ranch" to "Tony's Tejas Injector Juice".  Our brand will only produce fresh high quality foods that you can feel good about eating, while there is a party in your mouth.
Fresh for Life
Fresh for Life is the philosophy of Tony's Tejas Salsa.
Healthy fresh food that never cuts corners on quality to reach a better bottom line
Community involvement through our "Humanities In Motion Program"
Healthy Mind Healthy Body sponsorships
Environmentally friendly practices
Self-sustained economics and farming