Derek Peacock/DPeacock Studios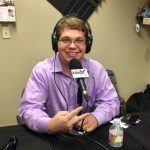 D.Peacock Studios is a full stack graphic web design business service located in Norcross, GA. For over 10 years, D.Peacock Studios has specialized in serving the needs of clients in the private sector with particular emphasis on small business. In that time, their work has been distinguished by three qualities: creative strategy, client collaboration, and technology integration. The concept is to provide custom marketing and design artwork for businesses looking to maintain a competitive edge with their brand. The company works on a variety of projects such as photography, print designs, websites, smartphone apps, Flash animations. and social media marketing.
Rick Strawn/Paradigm Security Services
Paradigm Security Services was established in 2006 in response to client requests of Strawn Security Services for highly trained private security personnel, both unarmed and armed, to replace off-duty law enforcement officers. Today, Paradigm uses trained and licensed private security personnel to replace certified law enforcement personnel during non-operational hours. Our well-equipped, uniformed private security personnel have superior training to meet emerging client needs.
In today's rapidly evolving world, security providers face complex challenges, ranging from diverting everyday crime to securing facilities and personnel against international home grown terrorism. Paradigm believes these demands bring new responsibilities and substantially higher levels of accountability. Paradigm is available to provide whatever services its clients request and at any required venue, including shopping centers, residential and office properties, sporting venues, logistics facilities, gated communities, and construction sites. Paradigm also provides executive protection Services for high-profile individuals and companies.
Brandon Cockrell/Sandler Training by Simon
Sandler Training by Simon is a sales training, coaching, and business development consulting company based in the metro Atlanta/Peachtree Corners area specializing in teaching business owners and sales professionals to be effective and consistent with their business development strategies, tactics, and attitudes.