Who is Karen Sindel?
Karen is a highly accomplished business executive with experience in operations, P&L management and strategic planning with both startup and growth companies. Results oriented, decisive leader with a proven success in new market identification, client management and retention, strategic thinking and problem solving. She has a proven track record of increasing client involvement and profitability. Karen has a tendency to thrive in dynamic environments while remaining a self motivator and focused.
Why I am Running for District 1
Running for District 1 Commissioner is a natural progression of my over 20 year of public and community service for the citizens of Escambia County. I have served on the County's Planning Board and the Santa Rosa Island Authority Board and in various senior management positions for groups ranging from the National Flight Academy and Naval Aviation Museum Foundation to the Florida Association of Local Housing Finance Authorities and the NW Florida March of Dimes.
The impact of the Navy Federal expansion, the development of OLF8 and the influx of nearly $60 million in RESTORE funds requires a leader with my long history of public service and proven success at problem solving, consensus building and a common sense approach to smart growth. My 10 years of experience on the County's Planning Board give me the substantial experience you need to address the significant potential developments planned for District 1. It is critical that we plan for and accommodate the impact that the developments will have on current residents and business owners as well as the County.
My husband, Tod, and I have owned land in Nature Trail and are planning to build our home there. We are happy that we have commenced that process having selected a builder and hope to be in our new home by August.
Positive Leadership. Proven Results.
Karen has a history of fiscal responsibility as well as "turning around" organizations. Junior Achievement of Northwest Florida, March of Dimes, National Flight Academy, to name a few. Whether it's working with volunteers or Boards of Directors, Karen's proven ability to gather support and work with groups, large and small, makes her a necessity for communities, local and state governments.
Sharron Pitts / Kelly Services
About Us
A people company, staffing the world
Kelly founded the temporary staffing industry in 1946, and has maintained a leadership position for more than 70 years of sustained innovation that's based on a valuable premise: we invest in people. Today that same focused expertise benefits our customers wherever they operate around the globe—in a growing number of specialized fields. And we'll continue to meet the evolving challenges of workforce flexibility with staffing solutions tailored to your precise business needs, both locally and worldwide.
As a global leader in providing workforce solutions, Kelly Services, Inc. (NASDAQ:KELYA, KELYB) and its subsidiaries, offer a comprehensive array of outsourcing and consulting services as well as world-class staffing on a temporary, temporary-to-hire, and direct-hire basis.  Kelly® has a role in managing employment opportunities for more than one million workers around the globe by employing 550,000 of these individuals directly with the remaining workers engaged through its talent supply chain network of supplier partners.  Revenue in 2015 was $5.5 billion. Visit kellyservices.com.
For details on how Kelly can meet your business needs, contact your local Kelly branch  today for more information.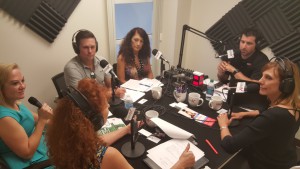 Tina Morrison / Perdido Key Events
32nd ANNUAL FRANK BROWN INTERNATIONAL SONGWRITERS' FESTIVAL
NOVEMBER 3-13, 2016
---
Join us for an unforgettable musical journey where the white sand beaches meet the blue waters of the Gulf of Mexico. During this festival, Grammy Award winning songwriters and the up and coming stars of tomorrow come into the spotlight to perform original songs in multiple locations in beautiful Perdido Key and Pensacola, Florida and Orange Beach and Gulf Shores, Alabama. Festival attendees enjoy an up close and personal concert experience and are often able to learn the stories behind the songs as told by the original author. Venues of all kinds welcome over 200 songwriters that come from around the country and around the world. Whether you are looking for a "listening room" experience, a pleasant dinner and music venue, a family friendly musical adventure or a gritty roadhouse, FBISF has a place for you. Most venues are free to attend, a few charge a modest cover at the door.
Angela Grace and Adam Bollinger / Gulf Coast Celebrity Golf Classic
Gulf Coast Aerospace Partners presents the inaugural Gulf Coast Celebrity Classic! Our goal is to help raise money for ALS through The Goode Foundation and create a phenomenal event in the panhandle.
WE are looking for businesses, individuals and the community to help us support this great effort to fund research to someday cure this awful disease.