Young Entrepreneurs Academy
Middle and high-school students in Escambia and Santa Rosa counties have the unique opportunity to start and launch their own REAL businesses or social movements by participating in the Young Entrepreneurs Academy (YEA!), a program co-sponsored by the Greater Pensacola Chamber and Global Business Solutions, Inc. Applications for the 2015-2016 academic school year are now open. Apply Here.
YEA! Pensacola – Young Entrepreneurs Academy 2015
The Young Entrepreneurs Academy (YEA!) is a ground-breaking program that takes students through the process of starting and running real businesses over the course of a full academic year.
YEA! students, as a class, visit area businesses, meet succ
essful entrepreneurs, meet with professionals (attorneys, accountants, bankers, graphic designers, web developers, insurance providers, etc.), develop a business or social movement idea and plan, and work with mentors.
Students then pitch their ideas to a panel of investors made up of local business and community leaders with real dollars at stake to obtain funding, and then launch their venture. By the end of the class, students own and operate fully functioning businesses.
Thomas Booker / Host
YEA – Radio Show
Thomas Booker / Your Just Desserts by Thomas
CEO
We provide fresh, made-from-scratch desserts that fulfills anyone's sweet tooth.
Call: 919-288-9024 or email yourjustdessertsbythomas@gmail.com
Dezmond Baldwin-Marlow / RedHawk Computer Company
Owner
 Remote Services
 Business Regulations
Business Relations
December 2014 – Present (1 year 2 months)Pensacola, Florida
 RedHawk Computer Company provides computer services including remote management, virus removal, and computer repair. RedHawk also offers scheduled computer maintainence as well as in-home technology services.
Hylton Matthew Davis /Owner of HD Vizuals and Marketing Director of Xswizit Clothing company
Contact Info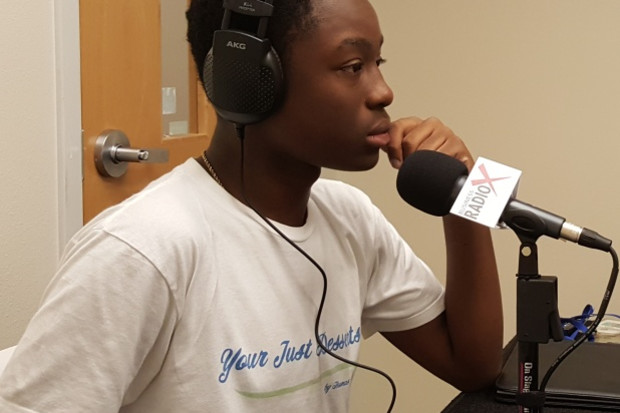 Amplifying The Voice Of Young Entrepreneurs
WHY
We believe Young Entrepreneurs are the future of our economy.  Pensacola Business Radio is absolutely committed to supporting these future leaders — and with just a little help from you, we can provide them with the same robust, full-scale "in-studio" Radio Show platform we make available to our Corporate clients, sponsors, and underwriters.
The Business RadioX ® Network has agreed to match Dollar for Dollar all funds raised from this campaign, provided . . .
We apply all funds to supporting Young Entrepreneurs in our community
We raise a minimum of $2,500 from our own community
What We Need & Want
What we WANT is $20,000 — which will fund Young Entrepreneur Radio for a full year.  To pull that off, we need to raise $10,000 (BRX Corporate will match that dollar for dollar to meet our $20k objective).
What we NEED is at least $2,500 so we qualify for the matching funds.
If we raise less than $2,500 . . . Every penny will still go to providing some version of Young Entrepreneur Radio.  It just means a much more modest program — like a monthly series vs. weekly show, and less budget for Remote Broadcasts, Radio Camp, Awards, and Scholarships.